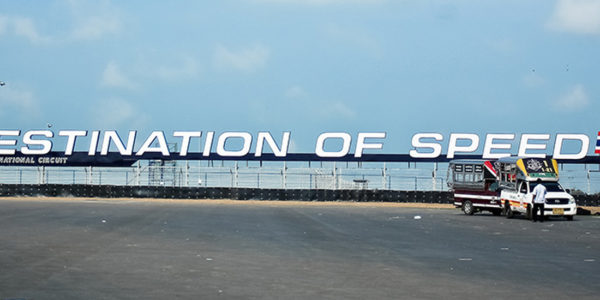 Go Eleven awaited in Thailand for the second round.
After one month from the first seasonal round, disputed as usual in Australia, everything is ready for the second big world challenge, We are in Thailand in the new Buriram circuit.
"Destination of Speed" is the light sign that characterizes the entry of the Chang International Circuit, one of the fastest tracks in the world.
At Phillip Island the work of our riders is began, Roman Ramos had the first contact with the new 2018 engine, with positive feedback but with a lot of work to be done.
Epis took a lot of imformation from the first experience, and wants to improve already from this race, while Canducci is recovering from the injury, but it is not ready yet, and together with the medical commision have took the decision do not to run to Buriram, to be at 100% in Aragon.
To replace him will be the Australian supersport champion 2017, Ted Collins. Class 1999, will be his first experience on the Thai circuit, his first time on a Kawasaki and his World debut.
Roman Ramos 40 (WSBK):
The new Kawasaki engine has a lot more power at low revs, I did not expect so much difference in the bike's behavior. We have to work on the chassis and above all on electronics to find the right balance…. then we could be very fast.
Michael Canducci 65 (WSS):
I'm recovering quickly, both the recovery of the ankle and shoulder are proceeding very well, I still have a bit of a headache but I think it's normal. Together with the doctors, however, we decided that it would be useless to take risks for an early return, so I will prepare to be 100% in Aragon.
Lachlan Epis 83 (WSS):
I Arrival in Thailania very motivated, I feel that with this bike and this team i can reach my goals, I do not have to hurry, but I want to take small steps forward from now.
Ted Collins 29 (WSS):
I want thank the Go Eleven team for giving me this important opportunity and for believing in me, I hope to repay them with a good result. From my side I will give my best, will be all new because I do not know the track and the bike, but above all this will be my first race in the world championship and I am very excited.
Timetable and TV live GP Thailandia – Buriram SBK 23/25-03-2018
Friday 23-03-2018:
ore 3.45-4.25, Superbike, Prove libere 1
ore 4.40-5.30, Supersport, Prove libere 1
ore 6.30-7.10, Superbike, Prove libere 2
ore 9.00-9.50, Supersport, Prove libere 2
ore 10.05-10.45, Superbike, Prove libere 3
Saturday 24-03-2018:
ore 4.45-5.05, Superbike, Prove libere 4, Italia 2, diretta
ore 5.15-5.35, Supersport, Prove libere 3, Italia 2, diretta
ore 7.30-7.45, Superbike, Superpole 1, Italia 2 e Eurosport 1/HD, diretta
ore 7.55-8.10, Superbike, Superpole 2, Italia 2 e Eurosport 1/HD, diretta
ore 8.30-8.45, Supersport, Superpole 1, Italia 2, diretta ore 8.55-9.10, Supersport, Superpole 2, Italia 2, diretta
ore 10.00, Superbike, Gara 1, Italia 1/HD, Italia 2 e Eurosport 1/HD, diretta
Sunday 25-03-2018:
ore 6.00-6.15, Supersport, Warm up
ore 6.30-6.45, Superbike, Warm up
ore 9.30, Supersport, Gara, Italia 2 e Eurosport 1/HD, diretta
ore 11.00, Superbike, Gara 2, Italia 1/HD, Italia 2 e Eurosport 1/HD, diretta
THE CHANNELS: Italia 1/HD (canale 6 o 506 del DTT e canale 6 o 106 di Tivù Sat) Italia 2 (canale 35 del DTT e canale 16 di Tivù Sat) Eurosport 1/HD (canale 210 di SKY) Eurosport 2/HD (canale 211 di SKY) Eurosport 1 (canali 384 e/o 386 del DTT) Eurosport 2 (canali 385 e/o 387 del DTT)