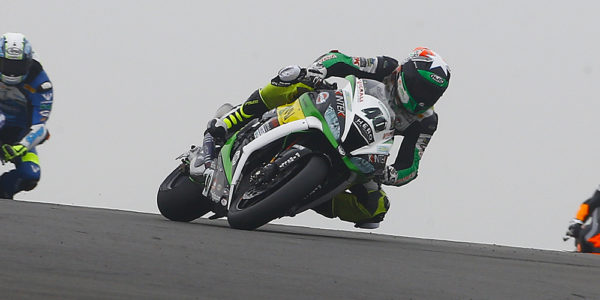 Unlucky weekend at Donington Park
The British weekend does not give satisfaction to the Go Eleven riders, the rain on Friday has slowed the work on the bikes, and in the races, Roman though fast, failed to bring at home the result that he was looking for.
On Friday Roman accused problems with the set up of his zx10rr, the team's technicians have revolutionize the bike working hard. Saturday morning in the FP4 seems to be another bike, improving its lap time of two seconds, and establishing himself in the top ten. In race 1, Roman has a contact with other rider at the first corner and arrive along, forced to re entry to the bottom of the Group.
The race pace is good and strong, starts to recover positions starting to make several overtaking until he get to Mercado, but makes a mistake at the first corner and goes on the sand. Return in the race but now the points area is too far
In race two starts well, but immediately complains little traction, can not be fast in acceleration and not even in the braking, so decides to return into the pits.
In Supersport another difficult weekend for Michael Canducci, who does not find the feeling, while Iturrioz approaches the Group improving his lap time session after session.
In 15 days we return to Brno, the team's morale remains high, like the desire for ransom.
Roman Ramos 40 (WSBK race 1; 19th):
I was doing a good race, the bike was good and I enjoyed riding it. I'm sorry to have made that mistake, I wanted to overtake the riders right in front of me and unfortunately I went along.i am confident for race2.
Roman Ramos 40 (WSBK race 2; ret.):
Today something did not work, slipped on the rear, I had no traction and I could not accelerate like the others riders, I tried to stay with the group as long as I could, but then with the consumption of tires the situation has worsened and I preferred to stop.
Michael Canducci (WSS; 21th):
Here I have never been competitive, I can not do what I want, I wanted to do the whole race giving the maximum to take the feeling. I hope that I can be faster in Brno.
Iturrioz Ezequiel 34 (WSS; 22th):
Friday I crashed unexpectedly in the wet, and this made me lose a lot of confidence, so I was very cautious in the follow sessions and slowly I improved both the feeling with the bike and the lap times. I'm happy with the work done with the team, we are always more closer, thanks to everyone
Denis Sacchetti (team manager):
It was not the weekend that we all expected, we are fast and we can be as constant as before, we are all aware of it, both we and the pilot, but from Assen we can not get out of this black period.
We do not give up, we have confidence in ourselves and we will continue to work and give our best, to return to obtaining the results that people expect from us