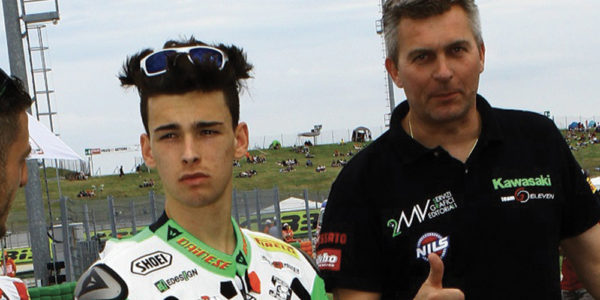 Luigi Morciano replace Canducci in Brno.
Luigi Morciano, 24 years old, 35 races in the 125gp World Championship, 9th as best result, 3 races in the Supersport World Championship, always in points, where he obtained his best result wearing the colors of the Go Eleven team, when he replaced Jezek (injured) in 2016 at the Misano Adriatico event.
Now he compete in the Italian Supersport championship, riding for the team Kawasaki Tecnobike Squadra Corse – TTN Racing Club.
Will be "Gigio" to replace Canducci for the Brno event, and the team announces him with great enthusiasm
Luigi Morciano #44:
This is fantastic news for me, I'm very happy to race with the Go Eleven team. We already know each other, on 2016 in Misano, and I have a wonderful memory. I want to thank the team for the trust that has renewed in me, giving me this opportunity, to run in Brno, one of my favorite tracks, in the world championship. When I saw the call on my phone I already had the bag ready to go!
Denis Sacchetti (team manager):
Nice to find Gigio again. On the only occasion in which we worked together he behaved very well, he did a very nice weekend and I'm glad he accepted without hesitation, a sign of the good feeling that there is between us. We know each other, he has a good experience on the kawasaki zx6r and in this track he has taken his best results of his career, so there are all the prerequisites for running a good race and having fun.