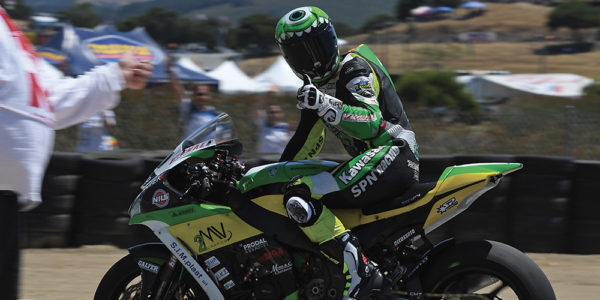 Roman twice 12 ° at Laguna Seca
The Californian weekend for Roman is been all in climp, his tenacity and motivation were the key elements to turn the page and take two good placings. Friday starts very well, in the fp1 immediately gets a good time and the race pace suggests that it could be a very positive race. Unfortunately in the fp2 falls ruinously at the curve 3, loses the front and the bike is destroyed on the barriers, unfortunately it is also forced to skip the fp3. The great work of the team allows him to be present in the fp4 with the second bike, but bad luck sees us well, and in superpole an electronic problem forces him to the box, will start last in both races. The determination that has always distinguished the Spanish rider induces him to put his heart in both races, constant pace without ever giving up, he constantly climbs positions on positions, finishing twice twelfth, and really close to the top ten.
Roman Ramos #40 (WSBK race 1; 12th):  Unfortunately we could not work to find the right setting and in the race we suffered a bit ', struggled to stop the bike in braking and without grip on the front in the middle of the corner, so I tried to drive as soft as possible and I noticed that the others riders were not so fast. I managed to save the tires a little and at the last have paid. We will work to improve in tomorrow's race, we can do a step forward.
Roman Ramos #40 (WSBK race 2; 12th.):Today, on the bike, several aspects had improved, but the grip on the track was precarious and I could not push as hard as I wanted. We were faster than yesterday and I'm happy for how the race went, is a shame to have lost the sprint with Mercado, but starting last I have consumed more the tires for recover positions. We can stay more ahead, and the team is been fantastic, thanks to all the staff for the great work they did this weekend.
Denis Sacchetti (team manager):  Here in Laguna seca we have seen all the kawasaki in difficulty, all except that of Rea which is making the difference, both for the championship and for the kawasaki. For us it was a very troubled weekend, the crash and the problem in superpole did not allow us to work on the bike, and we went into the race with a setting that certainly was not the best for these conditions. Considering everything we can be happy with the results obtained, happy but not satisfied, because we knew that we could do something better.