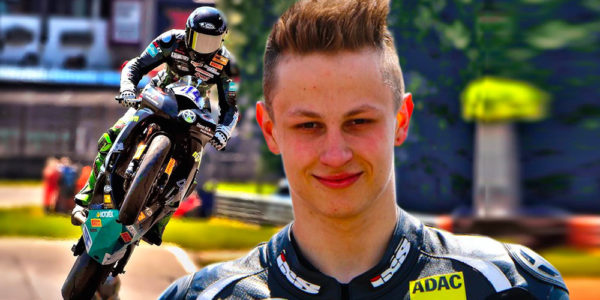 Christian Stange and Go Eleven together in the Supersport World Championship
Will be the young German talent Christian Stange, 20 years old, vice-champion IDM (International German Championship), to get on the saddle of the kawasaki zx6r of the Go Eleven team.
Christian, at the world debut, knows the bike well, with which he has obtained important results in his national championship, he has no experience on the world circuits, but talent, determination and desire to get there are not lacking.
He will run all the races scheduled for the Supersport World Championship, starting from Misano Adriatico.
The team announces him with great enthusiasm.
Christian Stange:
I want to thank the Team Go Eleven, that they give me the opportunity to show my skills for the rest of the season. I'll do my best to Improve a lot and do a better job race by race. It's going to be a great experience with a great Team!
Denis Sacchetti (team manager):
We have chosen to give the opportunity to a young talent to play his cards in the world championship, and who knows that maybe we discover a future champion!
In the German championship he grew fast and proved to be among the strongest, so I think he deserved this chance.
The world championship has a very high level and he knows he will have to work hard to reach the goal, improve his results race after race and fight with the best riders.
I have a lot of trust in him and I think he will have us fun..
I'm satisfied and happy to work with Christian, I can not wait for Friday to see him in action.