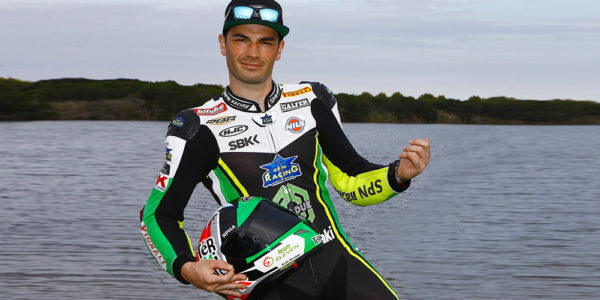 The world Championship restart in Portimao
After the long summer break, in Portiamo, in the beautiful region of Algarve, the WorldSBK is ready to re-start the engines!
Teams have never stopped working on their bikes as well as the riders have never stopped training and considering that the riders market is still open, the season finale will be very exciting!
Roman, during the mid-August tests on the Portuguese track, was victim of a bad crash while he was testing new components brought by Go Eleven, but nevertheless he will try to repeat the top ten as did last year.
Portimao circuit is loved by all riders, especially because it is characterized by numerous and violent ups and downs, a very long straight and violent braking, not even the holes are missing, as if it wanted to remember cross tracks.
The show can not miss!
Timetables and TV lives GP Portugal – Portimao SBK 14/16-09-2018
Friday 15-09-2018:
ore 10.00-10.30, Superstock 1000, Prove libere 1
ore 10.45-11.25, Superbike, Prove libere 1 ore 11.40-12.30, Supersport, Prove libere 1
ore 12.45-13.15, Supersport 300, Prove libere 1 ore 13.30-14.10, Superbike, Prove libere 2
ore 15.15-15.45, Superstock 1000, Prove libere 2
ore 16.00-16.50, Supersport, Prove libere 2
ore 17.05-17.45, Superbike, Prove libere 3
ore 18.00-18.30, Supersport 300, Prove libere 2
Saturday 16-09-2018:
ore 9.45-10.05, Superbike, Prove libere 4, Italia 2, diretta
ore 10.15-10.35, Supersport, Prove libere 3, Italia 2, diretta
ore 10.45-11.15, Superstock 1000, Prove libere 3
ore 11.30-11.45, Superbike, Superpole 1, Italia 2, diretta
ore 11.55-12.10, Superbike, Superpole 2, Italia 2, diretta
ore 12.30-12.45, Supersport 300, Superpole 1, Italia 2, diretta
ore 12.55-13.10, Supersport 300, Superpole 2, Italia 2, diretta
ore 14.00, Superbike, Gara 1, Italia 1/HD, Eurosport 2/HD e Italia 2, diretta
ore 15.00-15.15, Supersport, Superpole 1, Italia 2, diretta
ore 15.25-15.40, Supersport, Superpole 2, Italia 2, diretta
ore 16.00-16.30, Superstock 1000, Qualifiche, Italia 2, diretta
Sunday 17-09-2018:
ore 10.00-10.15, Superstock 1000, Warm up, Italia 2, diretta
ore 10.25-10.35, Supersport 300, Warm up, Italia 2, diretta
ore 10.45-11.00, Supersport, Warm up, Italia 2, diretta
ore 11.10-11.25, Superbike, Warm up, Italia 2, diretta
ore 12.45, Superstock 1000, Gara, Italia 2, diretta
ore 13.45, Supersport 300, Gara, Italia 2, diretta
ore 14.45, Supersport, Gara, Italia 2, diretta
ore 16.15, Superbike, Gara 2, Italia 1/HD e Italia 2, diretta
I canali: Italia 1/HD (canale 6 o 506 del DTT e canale 6 o 106 di Tivù Sat) Italia 2 (canale 120 del DTT e canale 16 di Tivù Sat) Eurosport 1/HD (canale 210 di SKY) Eurosport 2/HD (canale 211 di SKY) Eurosport 1 (canale 341 del DTT) Eurosport 2 (canale 342 del DTT)