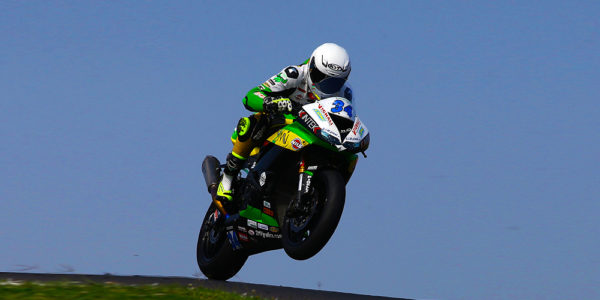 Alternating satisfactions in Portimao.
After the long summer break the world superbike is back on track on the tortuous circuit of Portimao, a beautiful ups and downs that united at the high temperatures of air and asphalt has put in difficulty the set up of the bikes.
The difficulties encountered in the tests were also confirmed during the race weekend, Roman had to work immediately on the set-up of a bike that since friday was nervous and not stable.
Together with the technicians they tried many solutions but nothing decisive, and in race one they opted for a conservative setting, which allowed him to finish the race in the points zone, but away from the ambitions.
Saturday night his technicians decided to completely upset the bike, and in the warm up the improvement was clear. The moral and expectations were then back to those of always.
After a good start in race two, however, Roman is crashed at the curve ten, while he was fighting with Leon Camier, a real shame, because his race pace was really fast.
In the Supersport Iturrioz has done a growing weekend going to touch the points area, goal centered by Stange, at his debut on this circuit and only at his second world race.
An excellent result that thanks the team of trust given to a young promise as he is.
Roman Ramos #40 (WSBK race 1; 14th):
We are making a lot of effort, I can not drive this bike as I would like, here it is very nervous and I can not be fast, the team has worked a lot but does not change anything. In the end we managed to bring home some points but we were lucky and far from the performance we wanted.
Roman Ramos #40 (WSBK race 2; rt.):
Today was another bike, last night my team did a magic, I still did not feel like I wanted, but everything worked much better and I could be more fast, in fact I was having fun, Camier and Mercado were within my reach and I'm really sorry for the crash, but I was pushing a lot and i have lose the front.
Thanks to the whole team for the efforts made and the great work done.
Christian Stange #88 (WSS; 14th):
I am very happy, they are my first points in the world championship and for me it is a great emotion. I have to say thank you to the team that is helping me to grow and gave me a perfect bike! I want to keep improving and I can not wait to be in magny cours. But now I enjoy this moment, for me it was very important to reach my first goal set!
Iturrioz Ezequiel #34 (WSS; 16th):
The long summer break did not help me and on Friday I had to resume rhythm and automatisms on the bike. Everything worked well and together with the team we still managed to take another step forward compared to Misano, we are always faster and today we smelled the points, we are very close, we arrive! I feel good both with the bike and with the team, I have a lot of confidence in the next races.
Denis Sacchetti (team manager):
We were expecting rain but not storm!
We knew that this circuit would been difficult for us, but not so much, on the Superbike we had to work hard to find a right set up that would allow Roman to ride as he knows to do, at the end only Sunday we approached at a good configuration….shame about the crash, but these are the races, it can happen.
We are very satisfied with the progress made by our riders in Supersport, Iturrioz has grown a lot and has missed the points area for very little, while Stange have ran a beautiful race, fighting in the important group and at the end he won his first two championship points, goal that we had set ourselves for the third race, but he surprised us all and he achieved the result already in his second round.