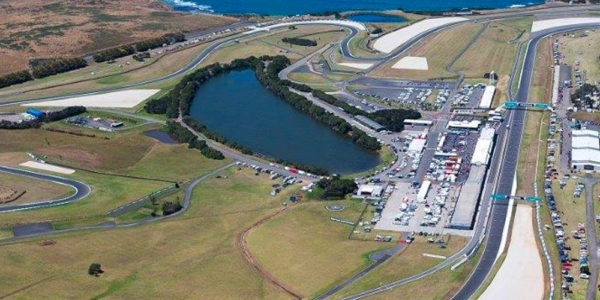 Test Phillip Island: last stop before WorldSBK beginning!
Here we are at Phillip Island! The wait for the return of the World Superbike Championship has come to an end; the series derivatives bike are about to come back on track, starting the exciting 2019 season!
As usual, the famous Australian stage, located in the beautiful scenery surrounded by the Indian Ocean, will open the WorldSBK Campionship; the week on the Island will open with a two day of official tests really essential to fix the last details in view of the most awaited race of the year.
Team Go Eleven will work hard to find the perfect set-up on a unique and spectacular track, where it will be crucial to find a balance that makes the Ducati V4-R sliding and fast at the same time. In the pre-race tests will be brought to the track further changes to solve the difficulties encountered in the first seasonal outings, focusing mainly on the rear, so far critical point of the newly born Red of Borgo Panigale.
Thus began a new era for Go Eleven linked to the prestigious brand from Bologna, synonymous with ambition and success, driven by the great reputation, experience and desire to win by Eugene Laverty; the expectation will be very high but the Team is aware of its resources and of the great responsibility it will meet. All the staff is ready to start the new adventure, it only remains to give life to the rumble of the V4, unleash the horsepower and score the first official times of the season!
Denis Sacchetti (Team Manager)
"For us it will be two very important test days, even if this is a very particular track. Probably the technical solutions that we will find here in Australia will not be good on other circuits. It is, however, essential to continue to collect information on the new bike and prepare the race with more time and calm. Phillip Island is always very exciting, because it is the first race of the season; for us this year is even more special, because it is the beginning of the new Go Eleven era, with Ducati, and we will also have the honor of bringing to the debut the new Panigale V4-R, the first 4 cylinder of Borgo Panigale. "
Eugene Laverty (Rider):
"Round One of the World Superbike Championship at Phillip Island is such a fantastic event. Having the final pre-season test at Phillip Island just a matter of days before the race weekend means that we have the opportunity to really perfect the set-up of the bike for this unique circuit. I'm excited to be able to ride the Team Go Eleven Ducati V4 R for five days next week and the aim is to keep improving my feeling with this beautiful bike. It's difficult to make a goal for Round One but like many riders I'm dreaming of standing on that podium. That really would be a fairytale start to this new project."