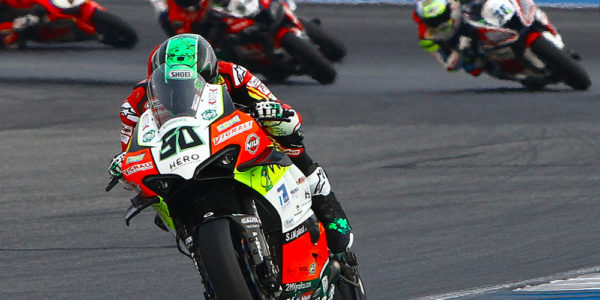 Terrible crash for Eugene in race 1
On Saturday morning, during the Free Practice 3, Eugene focused on the race pace. He went to the track with used tyres and made several laps on the 34.0: an excellent step ahead of a first race that is expected to be rather tight!
Free practices 3: P 11   1.34.087 + 1.115
In Superpole, Eugene pushes from the beginning, improves his best time in the second lap by seven tenths!
After bringing his Panigale V4-R to the top positions, he returns to the pits to put on the qualifying tyre; the second and definitive time attack starts!
Laverty exploits the great work done by the team, makes good times in the first two sectors and qualifies in P 8. A not exactly perfect lap but getting the third row, a few tenths from the Top 5, can be considered a comforting result waiting for the race.
Superpole: P 8    1.33.037 + 1.125
Scary crash at turn 12 for Eugene Laverty! After losing a few positions at the start, the Go Eleven rider was climbing back up, pressing the Welsh rider Chaz Davies …. then on the third lap he finds himself without the front brake, he is able to skip off in time before the bike hits against the barriers!
Everything is ok for the rider who, once the fear is over, can get back on his V4-R.
The technicians are trying to understand the causes that led to the accident.
Race 1: P 1   A. Bautista   31'06.051
P 2   J. Rea   + 8.217
P 3   A. Lowes   +14.156
…………
DNF   E. Laverty
Eugene Laverty:
"It's very disappointing to end race one in this way after such a promising weekend. In Superpole we made a good lap time to qualify in 8th position and I was feeling optimistic of a great result in race one. However, on lap 3 I arrived at the final corner with no front brake. I tried to pump the lever three times but no brake pressure arrived and so I had to jump off the side of the bike. It was a scary accident and I'm very fortunate to be able to walk away uninjured. We need to find what exactly went wrong before I return to the track again tomorrow."
The guys will work all night to reassemble the bike. Tomorrow the Team expects a great revenge, there will be two races available!
Don't miss a race of this fascinating Round 2!