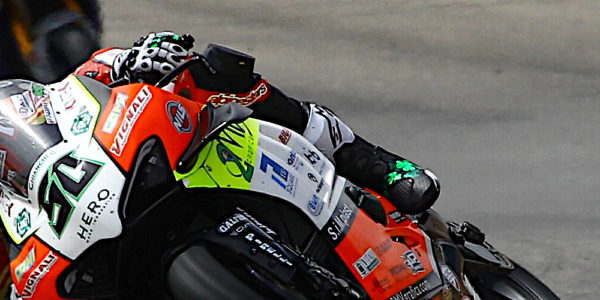 So close… But so far!
Everything seemed done, aah unbelievable comeback, until the fight for the podium, lost at the last lap with the attack on Davies valid for the third position!
Saturday in Aragon was opened with a session marked by cold temperatures and a cold asphalt, after the rain fell through the night. No improvement therefore from the times set yesterday. Eugene made good laps anyway, without risking too much, just to test the track ahead of the Superpole.
Free Practice 3: P 5 1.50.356 +0.749
In Superpole, Laverty made the most of the first set of tyres, lighting red in every sector. With the Superpole tyre, a small problem with the front tyre did not allow him to make the most of the Pirelli supersoffice, even bringing him to a small mistake in the first sector that did not permit him to start in the front row. Sixth position, second row; our rider will be in the game among those who count!
Superpole: P6 1.49.722 +0.673
What a race! What a thrill to see the private Panigale by Go Eleven fight with the world champion, Breaking really hard and come back with an extraordinary pace!
Unfortunately, however, the Team's race was conditioned by a contact with Jonathan Rea at the start: the right wing was damaged and riding the bike was very difficult. Eugene wanted to break away from the leading group and finish the race safely; when he saw that in any case his pace was incredible and he easily recovered on the first, then… he tried!
Pass Van Der Mark, pass Lowes, get on Chaz's tail on the last lap, try the attack for the podium, the two came in touch and Eugene ends up on the ground! A real shame, but now everyone knows that they will have to deal with one more opponent: the Go Eleven Team, Laverty and his V4-R!
Race 1: P1 A. Bautista 33'14.114
P2 J. Rea +15.170
P3 C. Davies +15.650
……
P15 E. Laverty + 1'37.121
Eugene Laverty: "I am so pleased to have this Ducati V4 R together with the Go Eleven team for this season. Today we were fighting for the podium and that gives us reason for optimism. It was a very difficult race for me after the contact with Rea at turn one broke my right wing and from that point the bike was very unpredictable and unrideable in places. Mid-race I decided that it was safer to drop backwards to ride alone in 6th position because the turbulence was too dangerous amongst the other riders. But at the end of the race I could see that the podium was possible so I took the risk to fight with them again. Unfortunately I crashed out of 4th position on the final lap but tomorrow we have another two opportunities. That's the great thing about the World Superbike Championship."
Ramello Elia