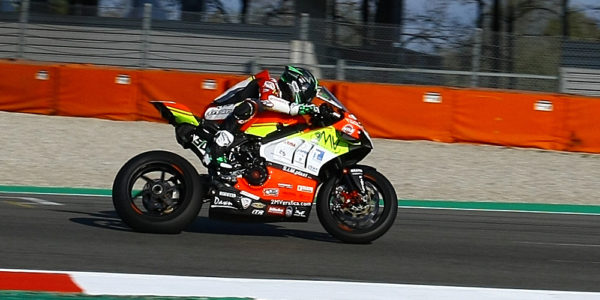 EUGENE TAKES POINTS IN A HARD WEEKEND!
After a Saturday tormented by the crazy weather conditions, which forced the whole program to be postponed to Sunday, today the races were regularly held in cold but nice atmospheric conditions.
As decided yesterday, today the large Dutch spectators saw two full rounds, covering 21 laps!
This morning in the Warm Up the riders went on to the track with only 2 degrees of temperature in the air and on the asphalt! Eugene tried a new set-up configuration, aimed at changing the weight balance.
Although the time signed was not significant, the sensations were positive, and it was decided to continue on the same road for Race 1, too.
Warm Up: P 17 1.37.672 + 2.256
11.00 am the first race starts; Laverty immediately finds himself rather in difficulty, in the long corners and he loses a lot of time especially in the first laps.
He still ends in 14th position; managing to beat an aggressive Kiyonari.
Race 1:
P 1 A. Bautista 33'30.479
P 2 J. Rea + 3.130
P 3 M. Van Der Mark + 4.934
…
P 14 E. Laverty + 46.018
In Race 2 our technicians try to make a further change, in an attempt to increase Eugene's feeling. With the asphalt temperature rising to 17.0 ° C the V4-R by Go Eleven seems to work better and Laverty manages to fight for all 21 laps with Marco Melandri and Leon Camier.
The battle inflames towards the end of the race, several overtaking animate the contest, several times our rider goes to guide the group, and at the end he closes the door to Melandri winning the sprint on the guy from Ravenna and finishing in 13th position.
Race 2:
P 1   A. Bautista   33'28.682
P 2   M. Van Der Mark   + 4.688
P 3   J. Rea   + 4.706
….
P 13 E. Laverty   + 36.359
Denis Sacchetti:
"The climatic conditions that we found here in Assen certainly did not help us, this track has very different characteristics from those faced so far and the work done has been so much, even if limited by the cold and the incredible snowfall. None of us he expected that Eugene's feelings could be so different from one race to another, now it will be important to analyze all the data to get ready for Imola. Our work group is strong and united, so we are positive for the continuation of the championship, the potential of the V4-R is very high, and the margin for improvement is still a lot. Sometimes it is necessary to take a step back to make two steps forward. "
The results of the Dutch Round have not respected our potential, now it's time to collect all the data and return to the attack as early as the next stop, Imola, 10-12 May!
Eugene Laverty:
"14th and 13th positions were far from my expectations coming into this weekend. Assen is a circuit that I love but I really struggled in both races. We improved the agility of the bike for race 2 but still I still missed a bit of rear grip compared to my rivals. It seems that we suffer more in the cold conditions so I'm looking forward to seeing some sunshine next time out in Italy."For further pictures of the weekend:
PREMERE QUI
Ramello Elia