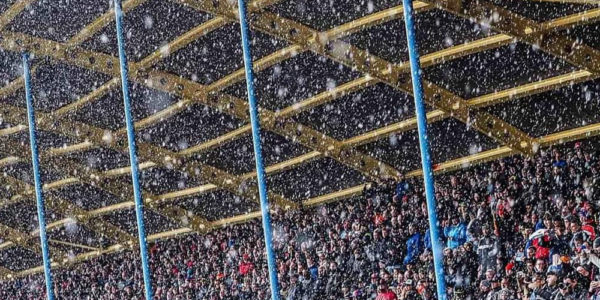 LET IT SNOW!
Thursday was joked about the small chance of snow, but today here we are with an epic image of the Assen grandstands!
Just look at the photo on the cover to see how the day ended…heavy snowfall and everything postponed until tomorrow! The atmosphere was really suggestive, but more for a day of skiing than for a World Superbike race!
From 1980, Salzburg, no such event happened; atmospheric conditions, however, easily predictable, feeling the glacial temperatures that have "welcomed" us since the morning and the threatening clouds that appeared at the start of Race 1.
The organization decided to convene team managers at an extraordinary meeting, where common sense prevailed and the unanimous decision was made to change the schedule for tomorrow: two regular 21-lap races will be held which will award full points, in old style Superbike.
The starting grid for both races will therefore be the one decided by Superpole, and the Superpole race will not take place: in its place, at the same time, Race 1.
Eugene will start from the 12 position (if Toprak Razgatlioglu is confirmed as unfit); unfortunately in Superpole he was unable to take advantage from Superpole tyre and because of the  the red flag following the crash of the Turkish rider and the  Honda rider Kiyonari.
Superpole: P 13   1.36.222   + 1.482
Eugene Laverty:
"We experienced four seasons in one day today! One moment the sun was out and the next the wind was icy cold and it started snowing. I fee bad that we weren't able to race for the fans that came out to see us today but it was the right decision to postpone the race until tomorrow because conditions were just too temperamental. I'm excited to finally go racing tomorrow!"
Here are the new schedule time for tomorrow:
09.00-09.15 Warm Up
11.00 Race 1 (21 laps)
14.00 Race 2 (21 laps)
Ramello Elia