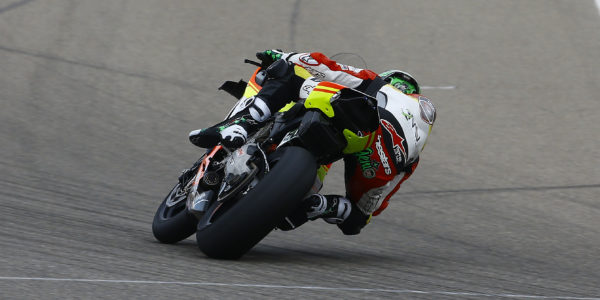 Motorland Aragon-Friday Free Practices
Great debut for the Go Eleven Team on the first "European" day of this exciting SBK World Championship!
Eugene proved to be at his best from the first laps, completely resetting the Thai misadventure. He improved his fastest lap little by little, lowering his personal race pace until a 1.50.356 was signed, a few cents from the Top 3.
The great agility in changing direction, the ease of riding of this new Panigale V4-R combined with the very clean driving style of our rider, author of a sensational T4, brought the Team to P5!
The Go Eleven technicians still have some shots in the barrel for the next sessions, in order to close the remaining gap, on the Superpole lap, and aim for the first row.
Tomorrow you will have to be glued to the TV until the last lap of the race, there will be surprises!
Free Practices 1: P 6   1.51.069   +1.377
Free Practices 2: P 5   1.50.356   +0.749
Eugene Laverty:
"We have made another step forward compared to Thailand and to end the first day in 5th position is fantastic for the entire team. We have regrouped after the disappointment of Thailand and come back fighting. I'm aiming for the front two rows of the grid tomorrow and confident that we can fight for a top six finish in the races."
Ramello Elia