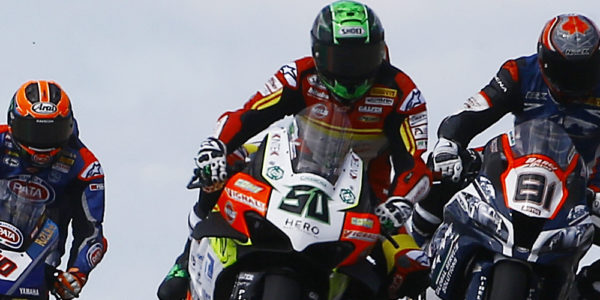 First independent team!
Breathing the air of the podium, with the bike standing in front of the number 1, is an amazing feeling!
Yesterday the podium went off the last attack, but today the "First Independent Team" could only go to Eugene!
The day begins with the warm up, which saw almost glacial temperatures and very cold asphalt again. In the morning Laverty remained cautious, checking that everything was in place after yesterday's crash. However, the pace proved to be good and constant.
Warm Up: P 9 1.51.438 + 0.844
The Superpole Race goes off with a real bang! Rinaldi, Van Der Mark and Rea touch each other next to Eugene, with the first two crashing out. Our rider still manages to come back until the battle for the podium with a couple of excellent overtaking. Towards the middle of the race a problem with the rear brake forces him to slow down and protect what has been done up to that point. At the end he is overtaken by the comeback of Tom Sykes; however, it ends in P 6, the first of the Independent Team. Therefore, nothing has changed since yesterday's qualifying; Eugenio will start from the second row!
Superpole Race:
P 1 A. Bautista 18 "25.853
P 2 J. Rea + 5.791
P 3 A. Lowes + 5.906
….
P 6 E. Laverty + 9.921
The expectations for Race 2 are very high, everyone has still impressed what happened yesterday! At the start the V4-R by Go Eleven wheels up and Eugene loses some positions, but remains calm and tries to rebuild the race.
In the early laps the bike feels almost perfect and he devours its opponents, until he gets close to the small group fighting for the podium. In the middle of the race something on the bike doesn't work perfectly, a technical problem slows him down; this leads our rider to manage and break away from the Top 5, trying anyway to defend the first position among the Independent Teams from a very aggressive Jordi Torres.
The two do a little bit of elastic, recording photocopy times, but in the end the Spaniard can't attack Laverty!
The Team, finally breathes a sigh of relief and can celebrate: First Independent Team and best result ever in WorldSBK for Go Eleven!
Race 2:
P 1 A. Bautista 33'16.448
P 2 J. Rea + 6.867
P 3 C. Davies +7.127
……
P 6 E. Laverty + 16.797
Denis Sacchetti:
"Winning the standings of the independents is a result we have been chasing for a long time, we are very happy. For us it was an important and very significant weekend, after what happened in Thailand, get off on the right foot was the priority, and Eugene proved to have the nuts!
Anyone who has seen Race 1, might think he should have settled for 4th place, but a winner when he smells the podium tries, always and in any case. Unfortunately the border between being a dunce and a hero is sometimes very thin, but those who don't try they will never become champion.
Today, both in Race 2 and in the Superpole Race, we failed to express our real potential due to two technical problems, due to the youth of our project, but we still managed to bring home the first Independent Team number plate, two excellent sixth places, and above all we move to Assen with the knowledge of having a motorcycle-rider combination that can aim very high."
Eugene Laverty:
"We finished 1st independent rider today in both races today so it's clear that we have made big steps forward in a very short space of time. These 6th place finishes are the best in the history of the Go Eleven team so I feel proud to be able to achieve these results together. Our potential is very high because we achieved these results despite a broken rear brake in the Superpole race and a problem with the Lambda sensor fixing in the final race. It's frustrating in one sense but on the other hand I feel incredibly optimistic for what lies ahead."
Ramello Elia