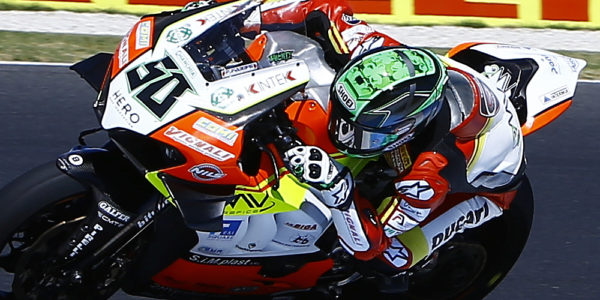 TOP SPEED IN RACE 2!
Team Go Eleven consolidates the partnership with Spark Exhaust!
Since the announcement of the Ducati Panigale V4-R-Eugene Laverty duo, the Go Eleven staff has decided to focus on the support and collaboration of the company from Mantua Spark Exhaust.
After the three inaugural races of the World Superbike Championship, the work of all the staff and collaborators who believed in commitment and in the project paid off!
The weekend at the Motorland Aragon was really positive, Eugene always fought for the top positions and even managed to fight for the podium in the opening race.
In race 2 the Team, thanks to the Irish ace, managed to bring home the result, P 6, the first Private Team!
During the 18 laps of the race, the V4-R by Go Eleven recorded the Top Speed, over 323 km / h, with the exhaust entirely produced by the Spark!
Impressive and incredibly positive, but expected fact; the hard work done by their R&D throughout the winter gave this result!
All this can increase the anxious wait for the action at TT-Circuit Assen; only 3 days and the protagonists of WorldSBK will be back on track!
Melania Vecchi – Spark Marketing Manager:
"Our company was born as a supplier of Porsche, Amg, Bmw, Maserati … then we decided to use all the machinery and technologies available to us to produce special exhaust systems for motorcycles due to our great passion for Ducati. Our first collector was made by my grandfather and my father for a Ducati 916, which we still have at home like a contemporary work of art. Ducati is extreme technology on two wheels, Ducati is passion. Designing and producing a kit for V4R, to compete in the Superbike world championship, was a great challenge for us that we face with the awareness of being able to give to this icon, all the dedication, all the passion, all the technology it deserves. Our R&D has developed this important project in collaboration with the Engineering Department "Enzo Ferrari" of the University of Modena. In just a few weeks, our technicians developed the numerical simulation, defined the optimal configuration, created 3D drawings and masks, worked day and night for the production of the first kits, entirely in titanium and special alloys, with cutting-edge technologies. We are very proud that the Go Eleven team and Eugene Laverty have chosen our technical support for this season. And we are extremely excited about the result achieved in Aragon: 323.4 km / h, best speed on the track! "
Denis Sacchetti:
"We are really proud of our partnership with Spark, a family-run company, with products all made in Italy. The workmanship on their products, underline the passion and love they put into motorcycling.
This is what we need, the basic ingredients to make the difference at a high level, in a competitive world championship like the World Superbike, and the results are seen on the track. Last Sunday, our private motorcycle recorded the top speed in the Aragon race. I think it's very significant, and this partnership is certainly an added value for us "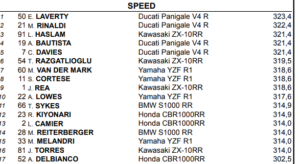 Ramello Elia