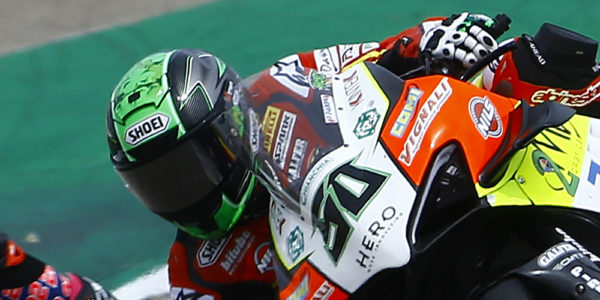 TT-CIRCUIT ASSEN FRIDAY FREE-PRACTICES
The free practice sessions on Friday open under a grey and threatening sky, with temperatures around 6 degrees.
Very cold and slippery track that does not allow unbelievable times for riders on the track.
Eugene and the Go Eleven Team present themselves with a different set-up compared to the previous race in Spain, we continue to test different technical solutions to find the limits of the new V4-R. The feeling with his Panigale is not exactly perfect and he can't set a really good lap time.
Free Practice 1: P 13 1.37.503 +1.905
In the afternoon practice the guys of Go Eleven, in agreement with the Ducati men, revolutionised the bike in search of the right direction, it is the first time that the V4-R faces this track!
The steps forward are immediately noticeable, Eugene improves the morning time with used tires by almost a second. In the last run, thanks to some small changes in electronics, he manages to record his best lap, stopping a few tenths off the Top 5!
An interesting fact is that the top riders improved by a few tenths from the morning, while our rider took down a second and two tenths!
Free Practice 2: P 11 1.36.197 +0.783
The points to improve are, however, still many, tomorrow the Team will focus on improving the feeling of the rider and the behaviour of the bike in such cold track conditions.
Eugene Laverty:
"It was a difficult first day here at Assen as we have finished just outside the top ten. I feel that we need to improve the rear setting for the cold conditions and also to to absorb the bumps better. My Go Eleven team are working hard to find the solution in order to provide me with a bike capable of fighting with the top guys tomorrow."
Ramello Elia