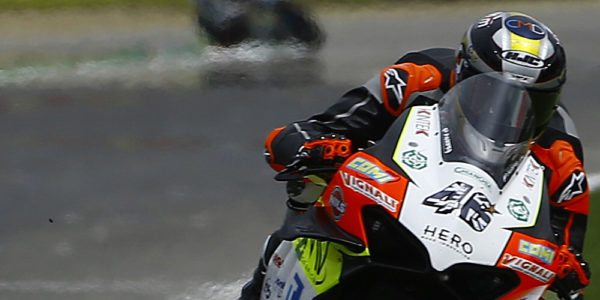 P 12 IN RACE 1: WHAT A RIDER!
The Saturday at the awesome Imola circuit was enriched by the passion and warmth of the great Italian public towards our rider Eugene Laverty and in the great welcome shown for the talented substitute Tommy Bridewell.
Yesterday was a very sad day, the news of Eugene's bad fractures had destroyed morale.
Today at 3pm Tommy Bridewell, after starting from England without even having had time to pack up and after having arrived late at night here in Imola, concluded the first SBK race of his career not only in points, but in 12th position!
Before the green light went out, Tommy had only completed 5 full laps on the Ducati Superbike by Go Eleven; in the race, after a cautious start, he cameback several positions managing to print times very close to the top ten!
You could not really ask more from the British talent, who also had the coldness of not pushing beyond the limit, perhaps threatening to throw his debut race in the rubbish.
Now it's time to focus on tomorrow, where the weather promises surprises, there is a high probability of rain and this could reset the values ​​in the field.
Race 1:
P 1 J. Rea 33'48.277
P 2 A. Bautista + 7.832
P 3 T. Razgatlioglu + 19.291
…
P 12 T. Bridewell + 55.235
Tommy Bridewell (Rider):
"What a thrill to finish my SBK debut race in the top 12! I had done just a few laps before the start and the difference with the Ducati I ride in the BSB is high, especially in terms of electronics.
Today's race will help me improve again tomorrow, trying to get closer to the top 10.
And if the race is wet the values ​​will change! "
For further pictures of Saturday: CLICK HERE
Ramello Elia