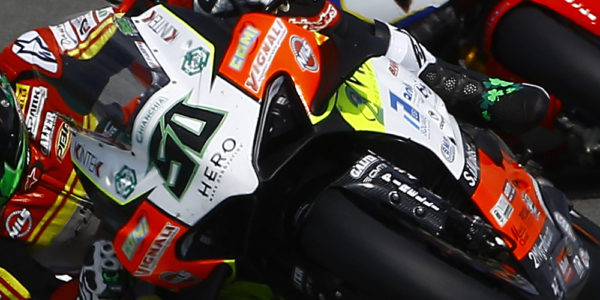 EUGENE LAVERTY IS INJURED!
Bad injury for Eugene Laverty!
During Free Practice 1, few minutes after the start of the session, the Northern Irish ace fell at the exit of the "Acque Minerali" turn.
A frightening highside threw him into the air, falling violently to the ground.
The impact caused the fracture of both wrists: in the right one the x-rays showed a broken Radius and Scaphoid, and the stiloid of the Ulna; in the left one the Radius distal to the previous surgery and the base of the first metacarpal.
The rider is already on his way to Barcelona, where tomorrow morning he will be promptly operated by Dr. Mir.
The Go Eleven Team wishes him a speedy recovery and is confident of seeing him back on his V4-R as soon as possible.
Good luck for the operation, Eugene, your team is waiting for you stronger than ever!
Ramello Elia