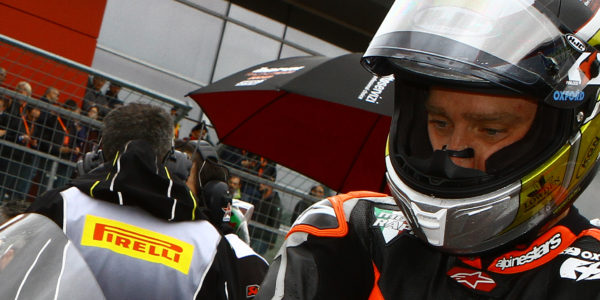 HEAVY RAIN STOPS IMOLA ROUND!
The so predicted rain has come to the Imola circuit since the early hours of the morning!
The warm up took place in wet conditions, with rain tyres. The rider of Team Go Eleven did not want to risk too much, entering with a very conservative map for the low amount of water on the track. However, he immediately found the right feeling with the V4-R by Go Eleven.
Warm Up: P 14   2'02.547   + 3.844
Just before the start of the Superpole Race grey clouds gather on the Santerno track; a few drops of rain fall, then a shy sun comes out that allows the riders to complete the 10 laps scheduled on a dry track. Tommy Bridewell starts really aggressive, immediately recovers some positions, overtakes Melandri with a hard and precise entry and settles in P 11. In the last laps he launches in pursuit of Reiterberger's BMW recovering tenth on tenth. With a few more laps the English rider could have finished the top 10.
Well so anyway, big step forward compared to the day of Saturday.
Superpole Race:
P 1   J. Rea   17'45.405
P 2   C. Davies   + 2.141
P 3   A. Bautista   + 6.864
…
P 11   T. Bridewell   + 26.820
Race 2 was (unfortunately for the show) canceled due to heavy rain!
Before the start was delayed, then a delegation of riders was taken along the circuit to understand the real conditions; finally the Race Direction decided to let the riders enter the grid, which after the alignment lap would have given their opinion on the safety conditions of the track. Unfortunately, 5 minutes from the green light, some protagonists have deemed it too risky to compete; so Race 2 was canceled.
Tommy Bridewell would, however, have been ready for the challenge, given also the intensity of the rain decreased significantly before entering the grid.
A huge applause to the very warm Italian audience (over 72,000 spectators in these extreme conditions!) That remained in the stands until the last second, hoping to enjoy the show in pure Superbike style!
Denis Sacchetti (Team Manager):
"We are all very sorry for what happened on Friday morning to Eugene, we really don't need this misfortune! Fortunately the operation on the right wrist went very well, better than expected and I hope to see him very soon on track.
Tommy was a surprise for us, getting on the bike Saturday morning, with a day less of work than others, and after just few completed laps to start a Superbike World Championship race, it takes courage! Furthermore he finished in 12th position, so hats off. I think it was a nice surprise!
In the Superpole Race he improved again, and I think he is a really talented rider.
I want to thank the spectators that always welcome us so splendidly here at Santerno, and I am sorry they could not even enjoy the challenge of Sunday Race 2, due to the heavy rain."
Tommy Bridewell (Rider):
"I am very happy with the performance we made in the Superpole Race this morning! The bike made big changes from yesterday's Race to today's Race and for me the feeling is much stronger and much better. I feel more confortable. Sure with more time we can be fast; it's a shame that they canceled Race 2, because my target was to fight for a podium! It's a shame, but also has been a fantastic experience, I very enjoy working with this Team and I hope we can make more races together!"
For further pictures of Sunday: CLICK HERE