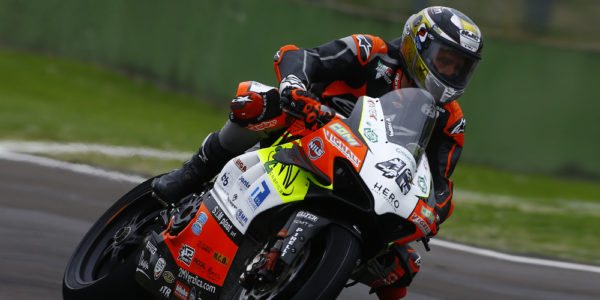 Tommy Birdwell replaces Eugene Laverty at Acerbis Spanish Round
After the more than surprising debut at the Imola circuit, coming on track on Saturday morning, and three exciting races held last weekend, including two podium-finish at the Round of the BSB at Donington, Tommy Bridewell won the reconfirmation by Team Go Eleven to replace the injured Eugene Laverty at the Spanish Round of Jerez de la Frontera!
Very fast and nice rider, the British ace will continue the development and set-up work of the Panigale V4-R, carrying on what Eugenio had started, waiting for the Irish rider to return to 100% of the form physics.
Thus was born a collaboration with Oxford Racing Ducati, Moto Rapido, the team for which Bridewell participates in the BSB, led by Steve Moore who made this partnership possible. Without their support we could never have raced with one of the strongest and most "crazy" riders in the English championship!
No expectations, no claims, no pressure; Tommy will finally be able to enjoy his first full weekend in the World Superbike Championship, the whole Go Eleven Team is happy to be able to continue working with him!
Tommy Bridewell (Rider):
"Im very happy and excited to get another outing on the wsbk stage. In Imola it was very rushed and we did a good job with the time we had but now for Jerez I expect to be more strong. We have been working very hard to understand this new V4R Ducati and I feel great on the bike so once I re adapt to the Factory electronics we can start to push hard."