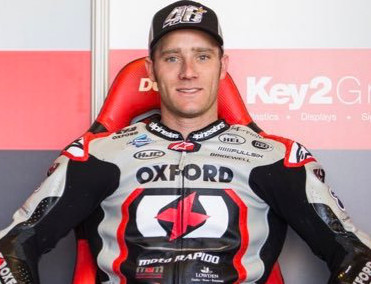 TOMMY BRIDEWELL REPLACES EUGENE AT IMOLA!
Two years after the romantic story of Vizziello that, after traveling all night to reach Imola, replaced the 2016 Go Eleven rider Roman Ramos, the Team found itself in the same situation today!
Eugene falls during the first free practice session and broke both wrists; as soon as the news arrived, our Team Manager immediately set to work to try not to disappoint the public and the many guests who will come here on the Santerno to see the Panigale V4-R by Go Eleven in action.
An instant phone call was enough to get in tune with the desire to get involved with Tommy Bridewell, one of the strongest riders of the renowned BSB, currently first with same championship points of Tarran MacKenzie!
Fresh from a double second place obtained in the Round of Oulton Park, he hastily prepared suit, helmet, boots and gloves, climbing on the first available plane; will arrive at the circuit late in the evening but will regularly race in FP3 tomorrow morning!
Thus, at 30 years old, his first opportunity to compete in the maximum category arrives: the Team has no claim from Tommy, but we are sure he will give 110% to prove his worth!
Denis Sacchetti (Team Manager):
"We are very sorry for Eugene, here at home we wanted to do well and we had the cards to do it, we had built a good base together to fight in front and we just had to take the results. It's a real pity, and we are sad, now we hope that he gets well as soon as possible because we are already missing him in the box!
On the other hand, Tommy is one of the fastest at the moment with the V4-R, in England he is showing great things and he already knows the Imola track. After I talked to him by phone, from his enthusiasm and desire to get involved in the WorldSBK Championship, I realized he was the right rider for us. This weekend we can't ask too much, he will have a day less work than his opponents, so we just want him to have fun and make us have fun! "
Tommy Bridewell (Rider):
"I am really happy for this opportunity to race for Team Go Eleven in the iconic Imola Circuit in the WorldSBK Championship. It's a fantastic place with an amazing heritage, so the opportunity is amazing for me! I look forward doing the best job I can for the Team and we can make some great races!"
Ramello Elia