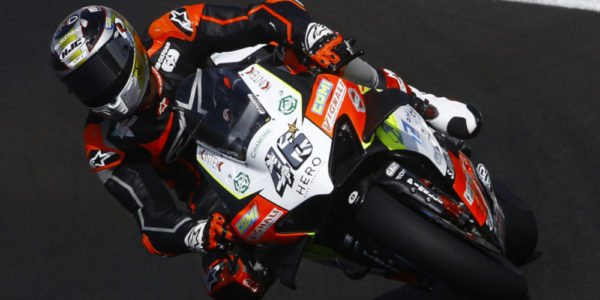 ACERBIS SPANISH ROUND-FRIDAY FREE PRACTICES
Tommy's weekend starts uphill at the first Superbike experience on the track of Jerez!
In the morning, Bridewell immediately tried to regain confidence with the electronics of the WorldSBK and with the track, on which he had not been racing for several years.
From the first passages, some problems in fast corners do not allow him to have the optimal feeling, struggling, above all, to maintain the correct line.
Then, a crash at turn 6, at 25 minutes to the checkered flag, does not allow us to take advantage of the "time attack" and the opportunity to significantly improve the lap time.
No consequences for the rider, who gets up quickly from the gravel!
Free Practices 1:
P 1   M. Van Der Mark   1.39.654
P 2   A. Lowes   + 0.185
P 3   A.Bautista   + 0.221
…
P 17   T. Bridewell   + 3.394
At 3.00 pm the second free practice session starts. The sun warms the track immediately, exceeding 50 degrees of asphalt! Tommy continues the work started in the morning to find the best feeling on the fast sectors: we are looking for different solutions both for set-up and electronics, immediately founding some improvement.
At the end of the round he manages to lower his fast lap considerably, almost a second better than in the morning!
Still, however, the problems are not solved, especially in T3, the real weak point of this Spanish Friday.
The Go Eleven staff will work hard tonight to find the right set-up, analyzing all the data collected today.
With a bike that is more agile to turn, Tommy can fight for the top ten!
Free Practices 2:
P 1   A. Bautista   1.39.428
P 2   M. Van Der Mark   + 0.226
P 3   J. Rea   + 0.304
…
P 18   T. Bridewell   + 2.588 
Tommy Bridewell (Rider):
"Today we had a lot to understand first I need to familiarise my self again with this circuit and also adapt my style for the circuit. Sure we have some bike improvements we must find with the bike to help me feel more comfortable for be more faster but I'm confident we can do this and the lap time will come more fast and easy"
Ramello Elia