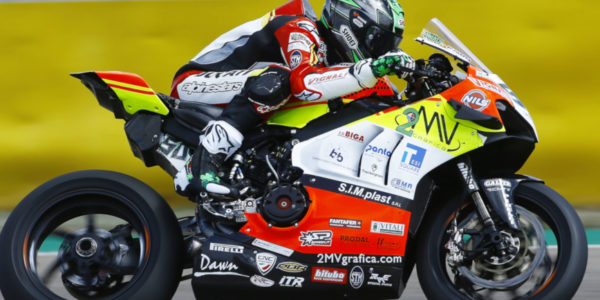 UPDATE ON EUGENE'S CONDITIONS
The WorldSBK circus is in sight of the stage of Misano Adriatico, now it's only 9 days at the start of the weekend on the famous Italian track!
Eugene Laverty, injured in that of Imola, is doing his best to participate in the seventh round of the season … let's see together what his current conditions and expectations are!
Eugene Laverty (Rider):
"Sorry for the radio silence the past few weeks, I have been 100% focused on my recovery and working towards my return to racing. Watching the race in Jerez at the weekend was very difficult and I felt sad not to be there racing for Team Go Eleven Ducati. I know how much potential there is with my Ducati V4 R and I just want the opportunity to showcase it, ideally in Misano. I'm doing everything possible in terms of rehabilitation to be ready for Misano but the clock is ticking. After my accident in Thailand last year my aim was to make my return at Donington Park but I actually made it back one round ahead of schedule. Again this year Donington Park was a more realistic target but I've had Misano in my sights for two reasons: it's my team's home round and secondly it was my strongest round of the season last year.
My left wrist has progressed well as it was a straightforward fracture of the radius and first metacarpal. The right wrist is a little more complicated with the fracture of the radius, ulna and scaphoid. Pronation and extension are quite limited and these are two key movements for the right wrist of a motorbike racer. I need to remind myself that most would still be in cast after four weeks so I can't complain about having limited range of movement at this stage! I'm aiming to race within 6 weeks so it is a tall order but something that I have been 100% focused on. As a racer I need targets and goals to help me to work day in, day out to speed up my recovery. Hands to a motorbike racer are like feet to a footballer, they are the money makers, therefore I I have to be 100% fit before I can come back to race. And that's something that I will only know in one week's time prior to Misano."
The Go Eleven Team will inform, over the days before Misano, about the real possibility of the Irish rider to come back racing.
In any case, Eugenio will be present at Rimini WorldSBK, on the track or as a supporter of the Team!
Ramello Elia