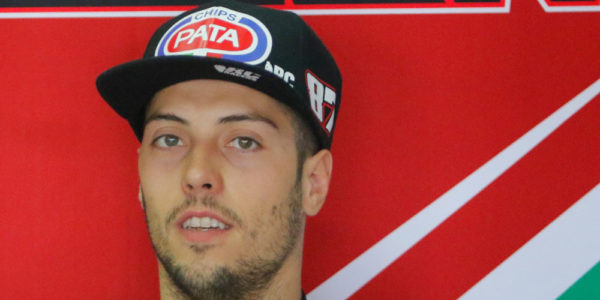 LORENZO ZANETTI REPLACES LAVERTY IN MISANO!
Now it's official: Lorenzo Zanetti is ready to get on the Ducati V4-R by Go Eleven on the Misano track, replacing the still convalescent Eugene Laverty!
Class of '87, from Brescia, 6 seasons in the 125 gp World Championship, 9 in the Superbike World Championship, 16 career podium finishes between World Supersport and Stock1000, his best result is the victory of the Imola Supersport class 2014 Grand Prix, and the 3rd place in the overall standings of the Supersport World Championship in 2015. It will be the Brescia-born ace to keep the Piedmontese team's colors high in front of the Italian spectators this weekend, 21-23 June.
Lorenzo still showed a great desire to race and get involved and he immediately accepted our challenge. He is currently a Ducati SBK test rider and a Pirelli tester, he collaborated in the growth of the V4-R project, so who better than him knows this bike?!
The Italian rider will find a different technical package than the bike he developed, and this will help us gather a lot of important information for the rest of the Championship: it will be an interesting comparison, which will intrigue the fans and the Team.
The staff of Go Eleven is sure that Lorenzo Zanetti is the right choice to face the Misano stage, and, as soon as he can sew up the V4-R Go Eleven, he can push hard and look for a good result!
The Team would like to thank Tommy Bridewell for the seriousness and commitment shown both at Imola and at Jerez, who was able to replace Eugene in the best way; unfortunately due to his commitments with the Suzuka 8h and the BSB (where he is first in the championship) he could not come to Italy and take part in the Misano race. Thanks Tommy and good luck for your seasonal goals!
Denis Sacchetti (Team Manager):
"Eugene made a wise choice, better focus on physical recovery and get back on track when you are sure to be able to ride well, rather than struggle with a physical problem! On the track the challenge must be only against the chronometer: here too he demonstrated his great intelligence and professionalism.
However, we will face the home race with a great rider: Lorenzo is an old friend, I remember when we were fighting against each other at the time of the minibikes, now working together in the World Superbike has a certain charm and I have to admit that I am excited!
It is important for us to have the opportunity to work with him, and we must make the most of it. Zanetti knows the V4-R very well, being the test rider, and will be able to provide us with many interesting data for the growth of our package.
Lorenzo is a tough guy on the track, he will make us have fun!
Lorenzo Zanetti (Rider):
"Replacing an injured rider is never nice, nobody wishes it, but unfortunately this is part of the races!
I'm glad that both the Go Eleven Team and Ducati have thought of me in this context. I will try to make my experience as a Ducati test rider available and give my best on a special weekend like Misano.
It will be my first opportunity to work with this team, with a different technical package than the bike I normally use in tests, but even this is a way to check other technical solutions and report them when developing the bike, with detailed directions.
It's a great opportunity, racing on the home track, in front of your audience with Team and Italian motorbike will be wonderful; I couldn't ask for more!
With Denis, we know each other from the minibikes, but we've never had the chance to work together and this will be our first time. I hope to repay the whole team with a good all weekend!
I thank Denis, the Go Eleven Team and Ducati for calling and believing in me!"
Ramello Elia