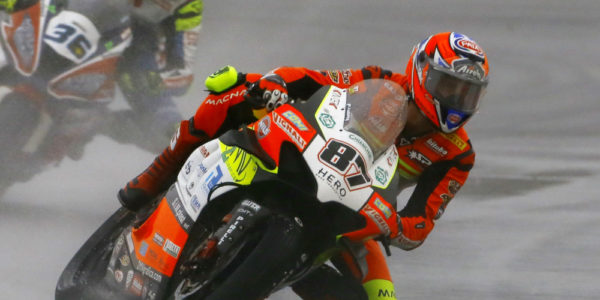 P 9 FOR LORENZO ZANETTI AMONG THE STORMS!
 What a busy day, three restarts, two red flags and repeated thunderstorms poured on the beautiful Misano track have affected the whole Saturday of races!
During the first practice, the Free Practice 3, the riders were able to test the bikes in "wet" conditions. A few laps to find the right configuration in the event of a wet race.
Lorenzo makes some laps without risking more than necessary, obtaining important data, then used in the afternoon.
Free Practices 3: P 14 1.50.966 + 4.482
Qualifying starts in the only moment of a dry track: Zanetti starts off well, entering P 12, two tenths behind the Top Ten. However, he is unable to take advantage of the qualifying tyre, a soft compound that can give more than one second advantage. Also due to a not perfect timing in the exit from the box, it ends in P 17. The rider from Brescia will be forced to race Race 1 all in comeback!
Superpole: P 17 1.36.634 +2.038
Race 1 starts under a real deluge!
As soon as the riders start the Warm Up Lap, Red Flag is displayed for a first storm; delayed race. Second attempt: the champions of the World SBK line up, they manage to start, but after only 3 laps it almost start to hail and the Race Direction is forced to stop the action. Again everyone inside the pits!
Third entry on the track, this time is the right time to start Race 1: the water on the track is a lot, but the conditions are "good" to run.
Lorenzo starts off pretty badly and in the first few laps he waits: slowly he gets more and more familiar with the conditions at the limit of grip and he starts his comeback by scoring laps in line with the top positions!
He recovers Mercado and Razgatlioglu, passes them and launches himself in pursuit of the group fighting for the eighth position. Meanwhile heavy names crash in the gravel: Lowes, Pirro, Rinaldi and Haslam are betrayed by the wet asphalt.
Zanetti, waiting for the last two laps, brakes hard, goes many times on the inside and overtakes some riders of his group, conquering a ninth position; wonderful top ten and great demonstration of lucidity and coldness in not overdoing it!
Tomorrow the conditions will be dry, a real summer day not to be missed on the Misano World Circuit:
11.00 am the Superpole Race, at 14.00 green light for Race 2!
Lorenzo Zanetti (Rider):
"It was a very difficult day; with today's race conditions it was important to get to the checkered flag! Being able to hit the top ten is a very good result both for me and for the team!
It seems strange, but the V4-R, in two years of testing, I had never ridden in the wet. Furthermore, the qualifying was not particularly brilliant: with the soft race tyre we were quite fast, but we were not able to use the qualifying tyre.
We're not 100% set-up yet, but we're trying to do our best.
The day has gone today, we have achieved a good result, but now we are already working for tomorrow, in order to understand the small set-up problems and solve them in view of the two races!"
For further pictures: CLICK HERE
Ramello Elia