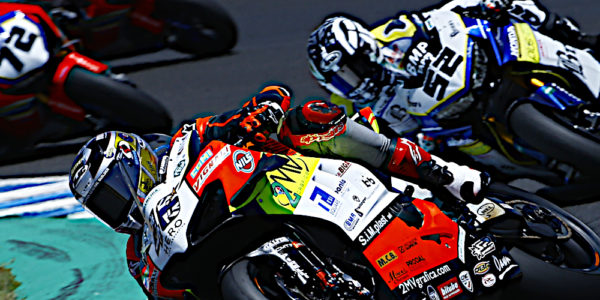 STEP BY STEP
Tommy Bridewell starts the Saturday on the curvy Jerez circuit with several difficulties; the bike has been shaken-up since yesterday, but the lap time was hard to be set.
The Ducati Panigale's set-up is not perfect yet and the English ace finds problems in the fast corners which characterize the second part of the track.
Free Practices 3:
P 1 A. Bautista 1.39.150
P 2 J. Rea + 0.182
P 3 A. Lowes + 0.344
…
P 19 T. Bridewell + 3.847
Qualifying takes place, and immediately Tommy seems to be more comfortable riding the V4-R: it is more agile to drive, easier to stop; at the level of feeling, almost another bike compared to FP 3.
Bridewell manages to improve by as much as 2 seconds compared to his Best Lap, returning to the pits satisfied with the Red of Borgo Panigale.
A real light at the end of the tunnel for the Go Eleven staff, who finally understands on what can work and improve.
The road taken is the right one and some small adjustments will make the British rider come back some position in Race 1.
Superpole:
P 1 J. Rea 1.38.247
P 2 A. Bautista + 0.036
P 3 M. Melandri + 0.251
…
P 16 T. Bridewell + 2.129
Race 1 starts at 14.00, the asphalt is hot, again over 50 degrees!
The riders will have to manage the Pirelli tyres for the length of 20 laps in the best way possible.
Tommy doesn't start too well, but in the chaos of the first corners he manages to maintain his position. While, in front, Alvaro Bautista wins loner, Bridewell keeps a good pace not far from the top 10.
In the final laps he tries to get closer to Mercado to try overtaking, but he still doesn't feel the right feeling to complete the attack.
P 14, two points brought home and different information gathered for the day tomorrow!
Now another step will be needed to get closer to the front group!
Race 1:
P 1 A. Bautista 33'32.300
P 2 M. Van Der Mark + 7.119
P 3 J. Rea + 15.323
…
P 14 T. Bridewell + 47.804
See you tomorrow, Sunday 9 June, with two exciting World Superbike races!
11.00 Superpole Race
14.00 Race 2
Follow us!
Tommy Bridewell (Rider):
"It has been a busy day today!
We started in a difficult way, but we improved a lot in Superpole.
However, this permitted me to have a good race and bring some points.
It is not the positions in which we would like to fight for, yet, so we will try to fix the perfect set-up for tomorrow!"
Ramello Elia