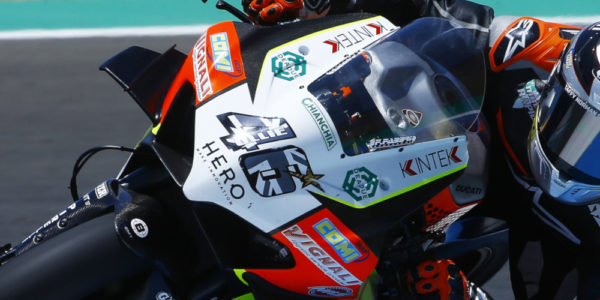 "CALIENTE" TOP TEN!
A good Sunday in progression redeems the difficult days of adaptation for Tommy at the Jerez circuit!
An unexpected tenth place repays the whole Team of the work done during the weekend in Spain.
The day opens immediately in positive, with Bridewell that shows ample improvements since the Warm Up! Finally he feels the V4-R and shows a nice race pace, much faster than on Saturday.
Warm Up:
P 1   A. Bautista   1'39.362
P 2   M. Van Der Mark   + 0.227
P 3   A. Lowes   + 0.280
…
P 15   T. Bridewell  + 2.352
In the morning the news of 2019 SBK, the Tissot Superpole Race starts. In the 10 laps of the race Tommy pulls out his claws and, after a slow start, recovers several positions.
With hard but correct braking, he placed himself in front of Reiterberger's official BMW and Takahashi's Honda HRC.
A big step in the last 5 rounds brings him back to the other Panigales on the track; then concludes twelfth just 3 seconds from Chaz Davies!
The road taken by the Team is the right one, Tommy improves considerably in the fast part of the track and can now express his full potential.
Some small braking adjustments will allow the Go Eleven Team to fight for the top ten!
Tissot Superpole Race:
P 1   A. Bautista   16'39.591
P 2   M. Van Der Mark   + 2.743
P 3   M. Melandri   + 2.954
…
P 12   T. Bridewell   + 16.760
What a Race 2! Great battle from the first lap and an amazing Van Der Mark that bends the Cannibal Jhonny Rea taking advantage of the only (till today) Bautista's crash!
Not far behind, our rider Bridewell starts again badly, but with more confidence in his Ducati, he manages to score excellent times, in line with the first group of pursuers.
Towards the middle of the race he manages to overtake Mercado and Reiterberger, launching himself in pursuit of Baz, not overtaking him.
Thus, he finished tenth, remaining grabbed to the French rider; another excellent result, in continuous progression and fruit of the great work carried on session after session. Entering the current championship, without experience on Marelli SBK electronics, replacing a Top Rider like Eugene by injury is not an easy task … good job Tommy!
Race 2:
P 1   M. Van Der Mark   31'23.720
P 2   J. Rea   + 3.548
P 3   T. Razgatlioglu   + 8.147
…
P 10   T. Bridewell   + 23.287
The WorldSBK is thus approaching the stage of Misano (21-23 June). It will be the second homeround for the Go Eleven team that hopes to be able to count on the return of Eugene Laverty! Unfortunately, the important injury of Imola needs time to recover 100%, so in the coming weeks we will update you on the conditions of Eugenio: Come back soon, we are waiting for you!
Denis Sacchetti (Team Manager):
"Today we have proved to be a strong and united Team, succeeding in turning a really bad start of the weekend. Tommy is a great rider, he knows what he wants. The difficulties of Friday, caused by the lack of experience on this bike and track didn't make him sad; he worked hard and managed to lead a weekend in continuous progression, up to the final top ten, which was our goal.
Thank you for accepting the challenge, Tommy, and for best replacing Eugene in these races! "
Tommy Bridewell (Rider):
"Today was a much better day for us, we understand the best position for my riding style and make the bike much better for me. The feeling was very good in the 2 races today and I'm very happy with the team work. I want to say a massive thanks to Team Goeleven for this great opportunity I've enjoyed a lot"
Ramello Elia