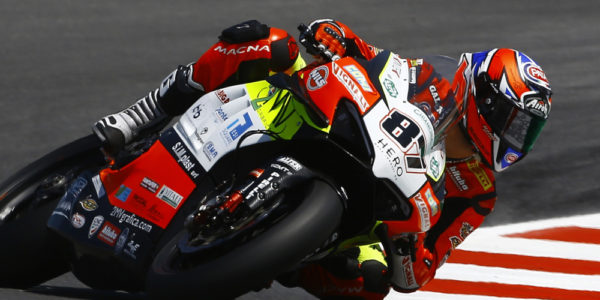 THREE RACES, THREE TOP TEN FOR ZANETTI AS SUBSTITUTE: WHAT ELSE?
Zanetti made the most of the opportunity offered by the Go Eleven Team!
Called at the last to replace Laverty, still convalescent, he managed to conquer two ninth places, showing great sensibility in the wet, confirming himself also on a dry track.
On Sunday, the Race-Day was inaugurated under a warm sun: after yesterday's storms, the riders were able to give their best in optimal conditions.
During the Warm Up Lorenzo tested the new solutions prepared during the evening to solve the small difficulties encountered yesterday and Friday.
Despite a not so fast laptime, he was quite satisfied with the bike.
Some small changes and the bike would have been ready for the Superpole Race!
Warm-Up: P 16   1.37.939   + 2.125
The Superpole Race, a short 10 laps race, starts with huge battles since the green light.
Riders have little time to overtake and comeback, so they don't think twice and attack.
Zanetti immediately tries to get himself in a good position, he completes some overtaking, he did a small mistake when he is about to attack Pirro, and he loses some seconds. In the final he manages to change the pace again and puts Jordi Torres and Loris Baz behind him.
Top Ten reached, but unfortunately does not fit into the grid change in view of Race 2 for a few tenths. He will be forced again starting from the 17th position.
Superpole Race:
P 1 A. Bautista 16'01.109
P 2 A. Lowes + 7.261
P 3 L. Haslam +9.154
…
P 10 L. Zanetti + 18.742
Finally, 2.00 pm, starts Race 2!
While on the starting line-up there are showmen and showgirls, from Gerry Scotti to Rocco Siffredi, passing through Miss Italia 2018 Carlotta Maggiorana, the riders look for the right contraction to face the 21 laps under 30 degrees of stuffiness!
Lorenzo Zanetti again starts badly, the bike wheels up and finds itself losing many positions. He then showed great determination in climbing the slope, passing the official BMW of Reiterberger and the Yamaha of Baz and clinging to the rear of Torres. Lap after lap he approaches, he passes Jordi after a great duel and puts in his sights Michele Pirro.
The laps at the end are by now few and so he prefers to consolidate the ninth position, without exaggerating.
The bitterness is growing for having started in all the races so far back, after a non-exploiting qualification, but the weekend was very positive for the whole Team and the data collected will become very useful in the future.
Race 2:
P 1 J. Rea 34'06.731
P 2. T. Razgatlioglu 0.381
P 3 L. Haslam 5.880
…
P 9 L. Zanetti + 20.043
Finally, the home weekend ends with a smile and great hopes for the races to come!
Denis Sacchetti (Team Manager):
"We are satisfied with this weekend!
First of all for our audience; the home race really has a magical atmosphere, and this can give up to 5 cv more!
Zanetti, it is true that he knew the Ducati V4-R well, but he had never ridden it in our configuration and although he found himself immediately well, however a tailor-made set-up had to be built for him. The technicians put him more and more at ease, practice after practice, and thanks to his qualities as a test rider, we managed to build a good result. In Race 1, in the rain, Lorenzo was really smart, he didn't take risks in the first part of the race, he set a steady pace and in the final he surprised the group in front of him, beating them in a sprint on the last lap. In the second race, only the bad start separated us from getting an amazing result, rode well and caught the maximum possible, so this makes us even happier and more satisfied. I thank him speaking by the whole team! "
Lorenzo Zanetti (Rider):
"It was a double ninth weekend and a tenth place in Superpole Race! I think it was a good weekend.
We worked hard and well because, apart from the final results, it wasn't easy to start on Friday with a partly unknown technical package. We were able to adapt the Panigale quite well to my riding style and we continued to improve. Today we achieved the same result as yesterday, but while it was raining yesterday, today the race was fast and hot. Considering also the fact that a good part of the gap I took in the first laps, starting back due to a half disastrous qualifying, we managed to make a good comeback, coming close to the good group, that of the first Reference Teams. This should make us happy with the work done. I thank Go Eleven for the opportunity to race the Misano Round; it was nice to work with all of you guys, and give it my all, even if maybe it's just for this race!"
For the pictures of Sunday: CLICK HERE
Ramello Elia