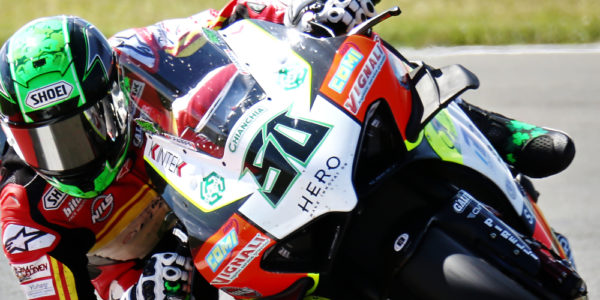 EUGENIO IS FORCED TO RAISE WHITE FLAG!
It all seemed nice, the best of romantic movies, Eugene coming back after a very bad injury in front of the home crowd … but unfortunately in life not everything is as it is expected to be: Eugene is forced to raise the white flag for the Round of Donington Park and will not take part in the remaining activities on the track.
He really gave it all, and even though he tried to hide expressions of pain behind a face that wasn't very expressive, it was enough to watch him riding on the track to understand the difficulty on the English ups and downs.
The laptimes were not even so slow, but continuing after the FP 2 would have meant putting at risk the safety of Eugene and the riders on the track.
The passion for the WorldSBK of this guy from Toomebridge is something exceptional: it would go against everything just to race with his Ducati!
Eugene Laverty (Rider):
"I had to try riding my Ducati V4 R today otherwise I wouldn't have been able to forgive myself. Thank you to Team Go Eleven for making the many adjustments to the bike to allow me to ride but after today I realise that, while I may be able to ride my bike, I am not yet ready to race. I've made the difficult decision to withdraw from the remainder of the weekend on safety grounds after a couple of small frights on track today. I am improving week by week so my focus is now on Laguna Seca, an anti-clockwise track that gives the right wrist a much easier time than Donington Park."
Denis Sacchetti (Team Manager):
"We knew it would be a bet to try to coma back at Donington, one of the most difficult tracks of all, where the right arm is really stressed, but I think it was right to try. Eugene is at the center of our project, we must do everything in our possibilities to better prepare for the season finale. In the next few hours we will decide whether to find a substitute rider or not. "
The Go Eleven Team is considering the possibility of taking a substitute for the Donington race, will have time until tomorrow morning at 09.00 to register it.
Stay tuned!
For the pictures of today: CLICK HERE
Ramello Elia