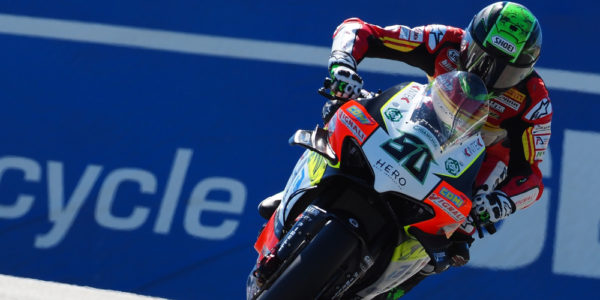 WILLPOWER AND DETERMINATION: THE LESSON OF EUGENE!
Five days ago, in Donington, Laverty was forced to raise the white flag; today he wrote a unique challenge. No one could bet that he would end the race, and it was even more unthinkable that he would end in top ten!
As a man of steel he has denied everyone: after so many months of convalescence, the smile can finally return to his face. Eugenio is back and in the second part of the season, once the injury has been swept away, he can really be competitive!
The morning of Laguna Seca is inaugurated under a threatening sky, with low clouds that limit the view of the riders on the track.
The asphalt, however, is immediately faster, with almost all the WorldSBK protagonists able to improve Friday's laptimes.
Free Practices 3: P 15   1'24.733   + 1.644
In Superpole the team experiences a new set-up compared to FP 3, which aims to modify load transfers. Laverty immediately feels at ease, he manages to push hard without having to risk more than he should and improves his laptime. With the "race" tyres he improves his best time by more than one second; with the qualifying tyre he managed to smooth his performance, entering the tenth position!
A remarkable performance, considering the still limited mobility of the right wrist.
Tissot Superpole: P 10    1'23.232    + 1.356
At 2.00 pm the Eugene real challenge begins.
It is one thing to do 4/5 laps and stop, the race is another matter: 25 laps to complete on a track that never lets you breathe like Laguna Seca.
Eugenio cautiously starts in the first laps, trying to stay out of trouble and setting the race on a consistent pace. Lap after lap feels better on the bike and recovers several positions.
Towards the middle of the race it has a slight decline due on the one hand to the recurrence of pain in the wrist and on the other hand to the decline of the rear tyre.
In spite of everything the Irish rider has been able to manage the situation in the best way, also responding to the numerous attacks of the rivals!
Great race considering his current conditions and great lesson of life: never give up, guys, never!
Race 1:
P 1 J. Rea 35'06.671
P 2 C. Davies +5.693
P 3 T. Razgatlioglu +12.721
…
P 11 E. Laverty +46.792
Eugene Laverty (Rider):
"Today was really nice to make such a step for the lap time. The Superpole was amazing: do 1'23.2 after yesterday I didn't think I could manage that!
So Qualifying in top ten was fantastic and I did it completely alone.
The race was more difficult but I just tried to keep consistent pace for 25 laps. I finished the race and that was my goal for today.
Let's see if tomorrow we can get inside top ten in the two races!"
Ph credits: WorldSBK
Ramello Elia