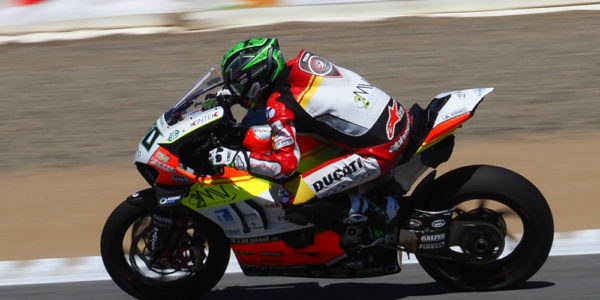 THE WRIST REACTS WELL; EUGENE CONFIRMS HIS PARTECIPATION TO THE GEICO U.S. ROUND!
The blue sky that shines the first free practice sessions hides a cold wind that creates many problems to maintain the correct temperature of the tyres.
During the FP 1 Eugene regains confidence with the bike, readjusting his riding style to soothe his injured wrist. The modified saddle helps him in acceleration and immediately manages to set a rhythm in progression, concluding close to the Top Ten!
Free Practices 1: P 14   1'25.158   +1.718
The second practice takes place, as usual, in the early afternoon: temperatures rise slightly, but the wind still blows strong and grip problems increase.
Laverty set 1'24.939: although he has to fight with the injury in the right-hand corners, where the lack of sensitivity on his wrist does not allow him to push at 100%, after Friday he was quite positive.
Considering the still little mobility, Eugenio turned out to be quite happy with the sensations found; he will bite the bullet and will be on track regularly for the three races of the Californian Weekend!
Free Practices 2: P 14   1'24.939   +1.552
Eugene Laverty (Rider):
"It was nice to ride my bike today even if it was difficult. I really struggle to turn right with because of my wrist injury but thankfully there are only four right corners here. I will aim to complete the races, that must be my goal for this weekend."
The Go Eleven Team thanks PJ Jacobsen for the great willingness shown in the possibility of taking over as a substitute, in case Eugene was not ready to ride. Maybe we will have the opportunity to work together in the future!
Ph credits: WorldSBK
Ramello Elia