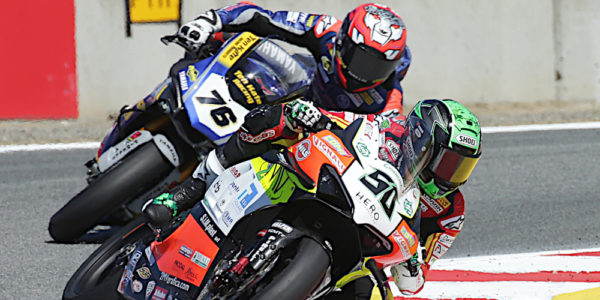 THE PASSION FOR RACING HELPS THROUGH PAIN!
There are no words to describe the American weekend of Eugene and the Go Eleven Team: having arrived here with the minimum of expectations, already being able to run in free practice seemed like a miracle.
Instead, the Irish rider showed courage and passion to sell, enduring the pain throughout the weekend and not even skipping a session to save himself.
He surprised everyone, including the experts, but he showed how much love for racing can affect a small guy from Toomebridge.
Nothing more to add, chapeau to his perseverance!
The Californian Sunday opens with a conservative and somewhat problematic Warm Up for Eugene. The new solutions tried after yesterday, in order to help him in riding, did not give the desired results.
Everything is rearranged like in Race 1, then, and ready for the Superpole Race!
Warm Up: P 16   1'24.909   + 2.058
The Superpole Race starts, but on the first lap the red flag is displayed, following the crashes of Bautista, Delbianco and Beach. No physical consequences for the riders involved, but everything to be redone over the 8 laps distance. Eugene tries to be conservative from the perspective of Race 2, avoiding the risks of a race that assigns half points and benefits only the first nine.
Eugene takes his V4-R to fourteenth position, maintaining a steady pace.
Superpole Race:
P 1   J. Rea   11'09.272
P 2   C. Davies   +2.533
P 3   T. Sykes   +3.641
…
P 14   E. Laverty   +18.917
Race 2 starts with great uncertainty: completing the second race of the day (25 laps), after having suffered only a few hours before finishing 8 laps, would have been a more than historical challenge.
But Eugene, stoic and determined, concentrated, set a pace in line with his direct rivals and even came back in the final!
And you think that at the end of the race he was a bit disappointed because his injured right wrist allowed him to overtake in a single point, losing so much time behind slower riders!
Eugene Laverty (Rider):
"We finished the weekend in a good way! To overtake two riders in the last part of the race was a nice surprise because I expected to go backwards at that point.
So, eleven positions yesterday and twelve today, but in reality today was the best race. It's nice to ride my bike again even if I am not in perfect conditions.
I am happy to start the summer break, recover 100% and come back fighting for the podium in Portimao."
Denis Sacchetti (Team Manager):
Only 4 days ago nobody could have thought that EuGenio would have managed to race here in Laguna Seca, they gave it for crazy! And instead he silenced everyone with a really impressive test of character and tenacity. In the physical condition in which he raced was unbelievable that he could do two such races and with these results.
The team did a great job trying to change the position on the seat in order to make him possible to ride; the still semi-clasped right wrist requires a particular style of riding, therefore a different seat and handlebars, which, even if on one side contributed to make all this possible, on the other it was an inevitable limit for the bike set up.
We are still satisfied, we received all the signals of which, both us and Laverty, we needed to think we could make a season finale as protagonists. The summer break will be useful to return to 100%!"
With this incredible performance, Eugene gave the whole team a boost.
Now the WorldSBK goes on holiday for almost two months, but after the summer break the Go Eleven Team, with his ensign Eugene Laverty, will be ready to hunt down the top riders!
For the pictures of the weekend: CLICK HERE
Photo credits: Mimmo
Ramello Elia