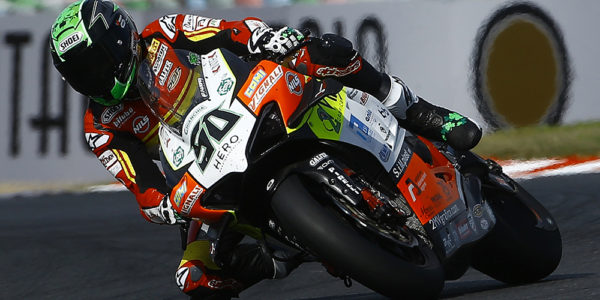 4 STANDING POINTS TAKEN IN MAGNY-COURS SUNDAY!
A Sunday in defense for The Go Eleven Team and Eugene Laverty. The step forward that was expected from yesterday's changes, necessary to stay in line with the best riders after a rather positive Saturday, wasn't done and Eugene took home a twelfth place in Race 2.
In the Warm Up, raced with very cold temperatures (13.1 degrees in the air), the Irish rider tried a new position on the seat. He found a good feeling by changing the balance of the bike despite the laptime. All together, technicians and Eugene, decided to continue working on this line, hoping in a good Superpole Race.
Warm Up: P 16   1.39.917    + 2.304
The Superpole Race starts under a beautiful sun that warms the asphalt of Magny-Cours. Eugene starts from the eighth position, tries to defend himself from the attacks of the big group behind him, but in the first laps he finds it hard to find the right feeling with the Panigale and loses some tenths, concluding on P 13.
In race two he will then start from the eleventh grid box.
Superpole Race:
P 1   T. Razgatlioglu   16'17.186
P 2   J. Rea   + 0.319
P 3   M. Van Der Mark   + 1.486
…
P 13   E. Laverty   + 17.810
Race 2 seems to start well, Laverty recovers two positions, then in turn 11, due to an error due to an anomaly in the rear brake, four riders overtake him.
The Northern Irish ace strenuously tries to remain attached to the group headed by Leon Camier, valid for the ninth position, but with the technical problem encountered the bike becomes difficult to stop and turn. The Team concludes, despite this, as the second Ducati at the end, behind only Chaz Davies, but Eugene was forced to "settle" for the championship points, without being able to express all the potential. Tough Sunday, it is impossible to hide that after yesterday's race today's expectations were higher.
Now we need to concentrate to finish this season in the best way on two layouts that will help Ducati unleash horsepower: El Villicum and Qatar, WorldSBK is coming!
Race 2:
P 1   J. Rea   34'26.280
P 2   M. Van Der Mark   + 0.862
P 3   A. Lowes   + 1.702
…
P 12   E. Laverty   + 32.283
Congratulations from all the Go Eleven Team go to the five-time World Champion Jonathan Rea; when everyone thought the world champion was lost, he remained solid and focused. With today's wins he became the rider with the most WorldSBK Championship titles. It is an honor and a privilege to share the track with you!
Denis Sacchetti (Team Manager):
"The weather here in France is always a little crazy! Friday was a very good start, because we were competitive in all conditions, wet, and dry. Eugene did a great Superpole on Saturday, and missed the second row for very little. Race 1, then, was the real first round of "practice" on a completely dry track and no one had been able to work on the set up of the bikes before, so no one was in a good one. See how the riders tried to ride over the problems, adapting to the situation was fantastic! Eugene found the right rhythm in the final laps, and in the last ten ones he was among the fastest on the track. With a view to Sunday's races, this final comeback gave us a good charge and we decided to make an important change to make the step forward and finally get back to important positions. Surely we need more time to be able to work on this line, that we are sure is the right one. In race 2, the problem encountered with the rear brake penalized us.
We go to Argentina convinced that we can do well and reach the goal. "
Eugene Laverty (Rider):
"It was a very disappointing Sunday with two results outside of the top 10. In the Superpole race I posted my fastest lap of the weekend but it still wasn't enough. In the final race the setting felt a small step better but unfortunately the rear brake system fell off at turn 11 on lap one. From there on I found it difficult to stop and turn the bike in the fluid sections of the track. It was a day to forget."
For WorldSBK pictures: CLICK HERE
Ramello Elia