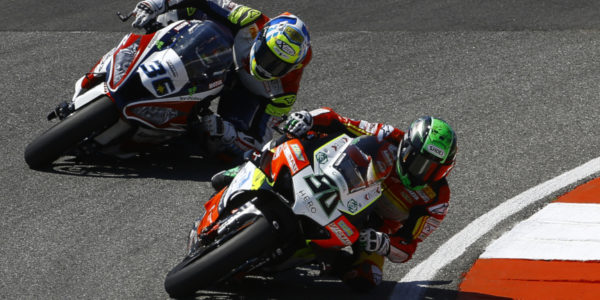 SUNDAY MISSION: TO TAKE ADVANTAGE OF THE TWO RACES; AFTER AN UNLUCKY SATURDAY
Saturday on the Portimao track opens under the typical warm conditions of the Portuguese summer. Temperatures over 30 degrees, hot asphalt that forced the riders to make further efforts both physical and tyre management.
The Free Practices 3, held in the "fresh" morning, allowed the protagonists on the track to significantly improve the times compared to Friday.
As usual, in FP 3 the fastest laps of the free sessions are recorded, but they are not very indicative in view of Superpole and races, which are held in the warmest hours of the day.
Free Practices 3: P 13   1.42.764   + 1.136
At 11.00 the Superpole starts!
Eugene Laverty enters the track with the race tyre, takes a few laps to become familiar with the track conditions; 10 minutes from the end of the session, he stops, puts on the qualifying tyre and can immediately print a 1.41.754, a second faster than the morning.
Unfortunately it is not enough to stay in the top ten, but the Irish rider is confident for the race.
Superpole: P 14   1.41.754   + 1.382
In Race 1 Eugene starts from the fifth row, maintaining his position. During the first laps he set his pace trying to recover a few tenths and stick to the group fighting for the Top Ten.
However, towards the middle of the race a technical problem forces him to stop in the pits. The technicians will verify the nature of the fault in the coming hours. Unfortunately this concludes a bitter and very complicated day for our colors.
Tomorrow it will be crucial to try to reverse the course and take advantage of the two scheduled races!
Race 1:
P 1   J. Rea   34'19.341
P 2   C. Davies   + 3.891
P 3   M. Van Der Mark   + 6.168
…
RET   E. Laverty
Tomorrow, Sunday, stay tuned, Eugene will need all your support to bring home a good result!
Eugene Laverty (Rider):
"We are really struggling this weekend unfortunately! Yesterday was though and again was difficult today to make any improvement. I tried to stop the bike and to exit the corner better on the rear tyre, but we just don't have the grip. Unfortunately in the race today, at mid-distance, we had a technical problem and I had to enter the pits. That's racing!
Tomorrow we have other two opportunities, so let's see what we can do!"
For the pictures of the Saturday: CLICK HERE
Ramello Elia