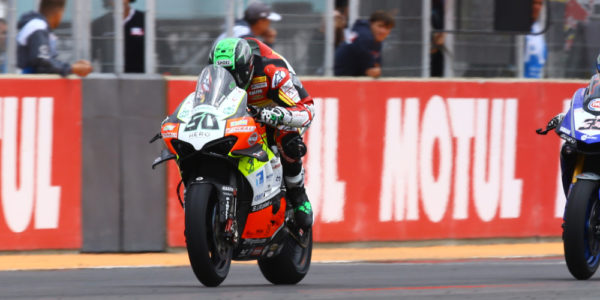 WHAT A COMEBACK FOR EUGENE IN RACE 2, SEVENTH AT CHEQUERED FLAG!
Great race, great comeback and strong determination for Eugene Laverty and Team. From the seventeenth to the seventh position, 9 overtakes one more exciting than the other, even overtaking 2 riders in one braking!
A seventh position that has the taste of rebirth!
Sunday at the El Villicum track began with a tough Warm Up, but all the technicians were able to pull off 100% from themselves and in the Superpole Race the first positive signs were seen. Laverty, just got off the bike, immediately confirmed that he had finally found the right way to return to the feeling of the beginning of the season with his V4-R, despite the thirteenth place.
Superpole Race:
P 1   J. Rea   16'23.270
P 2   A. Bautista   + 2.140
P 3   T. Razgatlioglu   + 3.682
…
P 13   E. Laverty   + 22.785
In Race 2, the Irish ace and the whole Team took another step forward, returning to fight for important positions.
21 exciting laps, at the first pass on the box straight the V4-R by Go Eleven was in seventeenth position; then lap after lap the confidence is increased. Laverty overtook rider after rider, imposing an incisive rhythm. From mid-race on he was constantly among the 5 fastest riders on the track; not a flaw, a consistent and aggressive ride that has excited all the public present in the stands.
Even more important is the fact that there have been no crashes and none of the riders in front of him has retired, this emphasizes even more the good performance.
It's amazing to see the Ducati Go Eleven and Eugene go so strong!
Race 2
P 1   J. Rea   34'33.478
P 2   C. Davies   + 5.158
P 3   T. Razgatlioglu   + 14.511
…
P 7   E. Laverty   + 33.901
In two weeks the WorldSBK will be back on track, Round 13 Qatar.
Come on guys, let's have a strong finale!
Denis Sacchetti (Team Manager):
"Weekend started badly and finished well, these are the races I like! Today Eugene really enjoyed us, he did a fantastic race, a comeback to be remembered. What gives me the most satisfaction is that he seems to have re-found the feeling with the Panigale V4-R. From the Portimao race we entered a black hole, there was no grip at the rear when entering the corner, and no set-up seemed to help. Today we found the right path and this is thanks to the work of all team technicians and rider perseverance. Now we go to Qatar with high motivation and an extra charge!"
Eugene Laverty (Rider):
"We enjoyed a fantastic end to race 2! Languishing down in 17th position on lap 1, I never imagined that I would cross the finish line in 7th. Thank you to Team Go Eleven for all their hard work and we have rediscovered the correct setting to allow me to attack. We are optimistic of a strong finale in Qatar!"
For the pictures of Sunday: CLICK HERE
Ramello Elia