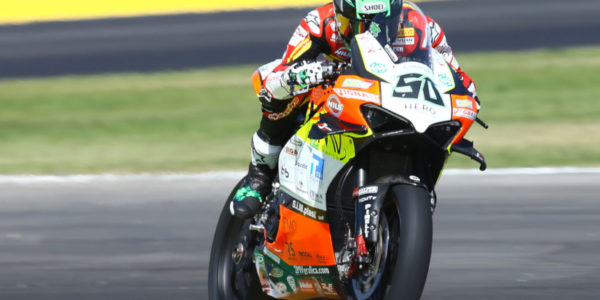 FRIDAY FREE PRACTICES-ARGENTINEAN ROUND!
A particular Friday, the one on the El-Villicum track! Teams and riders raced on a dirt-track track, due to the dirt that was along the 4.276 meters.
Very slippery from the first passages, almost to the limit of practicability.
During Free Practices 1, Eugene get on the bike only the last 15 minutes to taste the sweet South American curves; in the second free practice he tried to set a few more laps without taking unnecessary risks.
Under these conditions the new tyre introduced this year by Pirelli, the SCX, would have given enormous advantages, but its limited availability (4 tyres for all the teams) meant that Eugene, together with the team, decided not to use them, saving them for the Superpole and the three scheduled races. Laverty has, therefore, shot with the hardest solution, but the data collected are not very indicative, due to the difference in performance compared to 2018 and the conditions that are assumed for Saturday.
Important note: the times recorded in this anomalous Friday were over 4 seconds slower than last year's Pole Position!
Dorna has announced new schedules for the Argentinean Saturday; 10 minutes more in Free Practice 3 will allow the teams to recover part of the time lost today.
Here are the new updated times:
Saturday, 12-10-2019:
10.30-11.05, Superbike, Free Practice 3
13.00-13.25, Superbike, Superpole
16.00, Superbike, Race 1
For the pictures of Friday: CLICK HERE
Ramello Elia