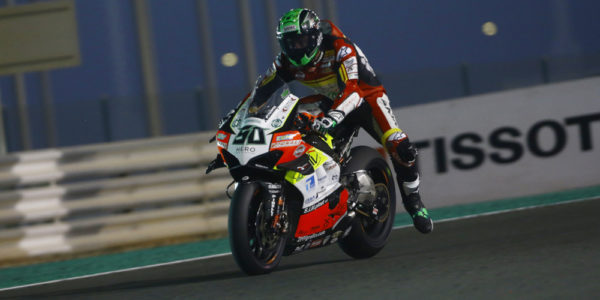 WORLDSBK QATAR ROUND-THURSDAY FREE PRACTICES
The lights on the Losail circuit are turned on, the bikes shudder waiting for the first green light of Round 13!
The Free Practices 1 start with an asphalt in excellent condition compared to the previous years: the sand, brought to the track by the surrounding arid desert, does not seem to give problems to the riders, who immediately feel a good grip.
Eugene get on track with the same set-up as Argentina, but on the second lap the rear tyre gets punctured due to debris collected on the track; fortunately the tyre loses little by little and the Irish rider manages to return to the pits.
New tyre, re-enters the track and shows a steady rhythm.
Laverty complains of a light rear, with little contact on the ground. The latter will be the main improvement objective for the second round.
Free Practices 1: P 14   1'59.826   + 1.816
At 20.00 the riders are back on track for Free Practices 2!
The Ducati V4-R by Go Eleven comes with a new pivot adjustment, which should help Eugene in the load transfer.
Since the first exit the improvement is clear, a second better than the FP 1. With the time of 1'58.692 Laverty concludes Friday in tenth position, with a step constantly under the '59 that promises well for the race.
Free Practices 2: P 10   1'58.692   + 1.243
Now the technicians will be able to carry out the latest changes, sew the Red of Borgo Panigale on the Irish of Go Eleven and face Superpole and Race 1.
Remember that in Qatar the races take place on Friday and Saturday at 20.00 local time!
Eugene Laverty:
"Today we worked well, we finished eleventh position in combined results.
The step we made on Sunday in Argentina was a benefit and the bike is working well. We will try to make another step in this way tonight to help the bike stop better on final braking.
Already the rhythm is really good: while we can't do one or two fast lap for Qualifying , we can do many laps constant. This is really important for the races!"
For the pictures of Thursday: CLICK HERE
Ramello Elia