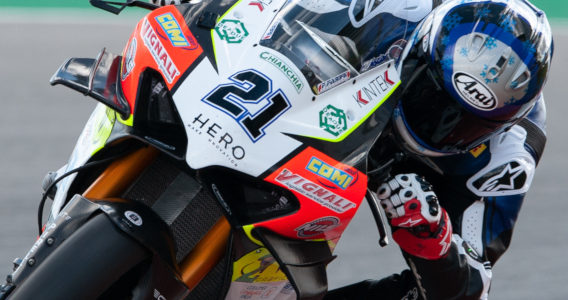 WINTER TEST, POSITIVE SENSATIONS!
Two days after the troubled tests on the Jerez de la Frontera circuit, the circus WorldSBK moves to Portugal, precisly to Portimao. Another two days of testing, 26 and 27 January, which allowed the teams to refine the final preparations before the long trip to Australia, the starting point of the 2020 Superbike World Championship.
The Portuguese hills offered a sun-kissed show, in optimal conditions to test the news of the Ducati V4-R. For Go Eleven, the laps made were fundamental because, for the first time this season, Michael Rinaldi managed to ride on a dry track. It was very important to find the right riding position and study a good set-up that allows him to get to Phillip Island ready to fight. During the first day the work contracted on the rear of the bike, while on the second day the front, always with the aim of understanding which solutions the rider is better off with. At the end of the day, a good solution was reached, despite the rain encountered in the previous test slowed down the works. On the second day, the lap time dropped by about nine tenths compared to Sunday afternoon, ending with 1.42.309 in eleventh position. The gap is narrow and the ranking is, however, almost unreliable because it is the best reference in general, without having the official status of those who worked with race tyres and those with qualifying tyres. Go Eleven's goal was to focus on race pace, goal achieved!
In less than three weeks we will fly to Phillip Island, a splendid track famous all over the world, which hosts the first WorldSBK Round! Before the free practice there will still be two days of testing on the same circuit, which will allow the teams to refine the latest changes before the important practices. Team Go Eleven and its rider Michael Rinaldi can't wait to travel and start for the 2020 season; a thrilling and promising championship is on the way!
Denis Sacchetti (Team Manager): 
"During the tests in Portimao and Jerez we did not test qualifying tyres or even time attacks, we chose a race compound and worked on that. It was important for us to understand what the rider likes and dislikes about the riding position and set-up, and create a basic setting that would allow him to ride the bike at his ease. Although we had to reduce the schedule due to bad weather in Jerez, we managed to complete a good job and I can say I am satisfied. Couple of team members and some important parts of the bike changed, so these days on the track were a fundamental test for the team, and it went very well! Rinaldi surprised me, he is fast and he is very determined, I had fun to work with him in this first outing and I really want to start for the Championship!"
Michael Ruben Rinaldi (Rider):
"In Portimao it was two useful days of testing. We continued the work of setting up the bike mainly with the race tyres and I am satisfied with the work done by both me and the team. Some small technical problems slowed us down, but we have been able to solve them quickly enough. I have not done many laps, but those completed have been done methodically and the data collected are very useful. We still need some small improvements to be more competitive, but, being the first time I got on the Ducati Go Eleven in dry conditions, we did well! I can't wait to get to Phillip Island, it's a track that I really like, even if I raced for the first time last year. I thank the Team for the great work done, see you in Australia!"
Ramello Elia