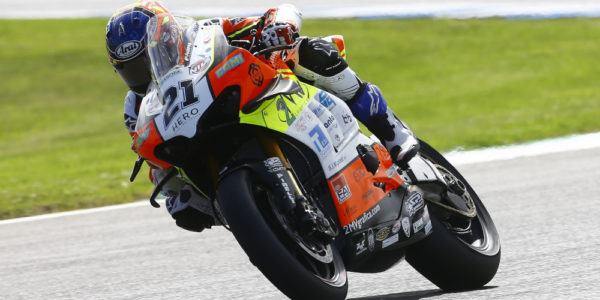 RINALDI ENDS NINTH A BIZARRE FRIDAY!
A busy Friday inaugurated the 2020 Superbike season!
A few moments before FP 1, a more and more persistent rain plentifully wet the 4,445 meters of the Phillip Island track. Michael, as well as some of other riders, preferred to stay in the box, without taking unnecessary risks given the expected weather improvement in the afternoon. 50 minutes spent carefully watching the opponents on the track.
Free Practices 1:
P 1   S. Redding   1.41.195
P 2   L. Baz   + 1.009
P 3   L. Haslam   + 1.073
…
No Time Set   M. Rinaldi
The second free practice session was definitively more interesting and exciting, on dry asphalt, the only one for teams and riders left for about an hour to settle race pace and fast lap in view of the busy Saturday. Michael Rinaldi had a technical problem in the exit lap from the pits when his V4-R stopped and the commissioners were slow to bring it back to the box; fortunately it was a banality, which the Go Eleven staff was able to solve in a few moments. However, Hal session was went away. The number 21 showed great tenacity and strong mentality, he did not become agitated and on the second timed lap he managed to move into the current top ten. The rhythm of the following laps was also surprising, all on the high 31. With new tyres, at the end of the session, he managed to complete only one lap, improving by half a second his previous best, bringing Ducati in ninth position, seven tenths from the top.
Free Practices 2:
P 1   S. Redding   1.30.436
P 2   T. Razgatlioglu   + 0.418
P 3   M. Van Der Mark   + 0.469
…
P 9   M. Rinaldi   + 0.777
For Friday pictures: CLICK HERE
Ramello Elia