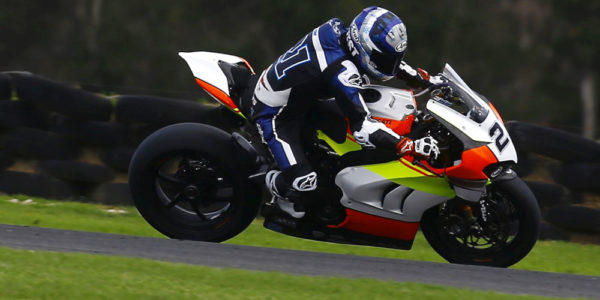 ENGINES ARE WARMED UP AT PHILLIP ISLAND!
In Australia, on one of the southernmost islands of the globe and during the European night, the WorldSBK protagonists wit on the track for the first day of the last session of the Winter Tests. In Phillip Island, the famous track that has become a must for the opening of the championship season, the bad weather did not leave any respite to the riders, ruining part of the afternoon.
Michael used the first session to regain confidence with the harmonious Australian circuit and rediscover the sensations he had left in Portimao only a few weeks ago. Rinaldi enters with the basic set-up identified in Portimao and begins the work of adaptation to the track, continuing the test program set by the team. In the middle of the session it's time to implement the first real test. A new, more "flattened" and low profile tank is ready on the Ducati Go Eleven. Unfortunately, however, Takahashi's Honda breaks down, losing a lot of oil at turn 4 and ending his race surrounded by flames. Session over and all postponed to the second round, canceling about 40 minutes of tests.
At 3.40 pm the green light of the second session starts, but the clouds gather over the starting straight and annoying raindrops make the track wet and impractical. Riders have to wait about an hour, with 70 minutes thrown away, to see the first bikes go out on the track. Michael is the first, he immediately feels comfortable and tries to push to understand the weak points and therefore where to concentrate the work to improve his V4-R. Towards the end of the day, he manages to significantly lower his lap time, approaching the best in the class. He ends in twelfth position 1.5 seconds from the top of a troubled day, but still useful and necessary to find the correct balance.
Monday Free Practice:
P 1.  T. Razgatlioglu   1.30.740
P 2   T. Sykes   + 0.022
P 3   L. Baz   + 0.037
…
P 12   M. Rinaldi   + 1.532
Tomorrow, Tuesday 25 February, the WorldSBK will be back on track for the final day of testing… after which it will be Rumble Tumble from Phillip Island, Australia!
Michael Ruben Rinaldi (Rider):
"It was a profitable day after all. We didn't manage to do many laps because this morning, between a small inconvenience and the oil on the track that took 40 minutes off, we only completed 9 laps. In the afternoon, it rained for an hour, but then the track dried quickly and I was able to push. We obtained various information, thanks to which we can make more specific changes for tomorrow, with the aim of finding the optimal feeling more quickly. We are not far away, but there is still a lot of work to do; however, for the few laps completed, the data collected is remarkable. We hope to have more time available tomorrow to better arrange both the bike and my trajectories, especially in the first sector!"
Ramello Elia