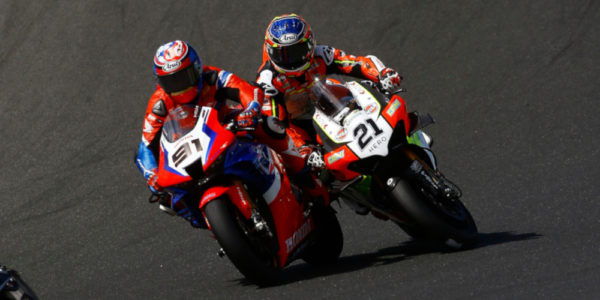 HASLAM TOUCHES RINALDI, BOTH CRASH!
Writing on days like today isn't easy, on one side the awareness of being able to fight for the leading positions, on the other the regret for a race thrown away because of an error by others.
In the morning, in the Warm Up, Team Go Eleven and Rinaldi test a new combination of heights on the bike, to take advantage of the new tyre in the first laps. Despite some excellent passages around the low 31, half a second from the leader, Michael chooses to continue the previous solution. It would have been difficult to keep the pace in those conditions for the race distance.
Warm Up:
P 1   Loris Baz   1.30.470
P 2   A. Lowes   + 0.067
P 3   S. Redding   + 0.080
…
P 11   M. Rinaldi   + 0.669
In the Superpole Race Rinaldi is in great feeling; from the start he is aggressive and manages to find the right way to recover different positions. In 10 laps he exchange overtakings with Cortese, Fores, Haslam and Scheib, managing to finish ninth, at the photofinish with the Englishman of the Honda HRC. A really good performance, which is worth the third row on the grid for the rider from Romagna, and, more importantly, the belief that he can fight for something great.
Superpole Race:
P 1   J. Rea   15'18.421
P 2   T. Razgatloglu   + 0.067
P 3   S. Redding   + 0.072
…
P 9   M. Rinaldi   + 7.219
For what concern Race 2, there is not much to add. The opening photo speaks for itself. Haslam apologizes that he got neutral in braking and there was nothing he could do to avoid the innocent Michael, who crashed on the ground. The Italian tried to bring his Ducati back to the pit where the team repaired it quickly. It was not, however, enough to complete 75% of the race. A pity to have missed a great opportunity!
Race 2:
P 1   A. Lowes   34'04'327
P 2   J. Rea   + 0.037
P 3   S. Redding   + 0.849
…
NC   M. Rinaldi
Fortunately, in just two weeks it is already time to return to the track, in the night stage of Qatar, with the aim of shaking off the disappointment and regret. It is a track that should adapt well to the characteristics of the V4-R, Team Go Eleven can't wait to have its opportunity again!
Denis Sacchetti (Team Manager):
"The first race brings with it all the anxieties and fears of winter, it is the first exam where everything must be ready and work and news never miss. I am satisfied with the team's work, there is great harmony and complicity inside the garage. We have a good bike, and together with Michael we have worked hard to improve and adapt it to him. Slowly we are succeeding, even if the work to do is a lot, but we can say we have an excellent base. Rinaldi is professional, fast and precise in the feedbacks, I am very happy with his race weekend. In the first Race he used his head, keeping the tyres in the first laps to push in the final, in Superpole Race he conquered the third row on the grid of starting, and in Race 2, given his race pace, we had the opportunity to finish in the top 5. Haslam made a mistake and hit us, it can happen, but it's a pity that it was Michael who didn't finish the race, completely innocent. let's take all the good and bring the desire for redemption to Qatar!"
Michael Rinaldi (Rider):
"The weekend was positive, we were ready for Race 2, after improving compared to the first Race. In fact, I was immediately in the group of the first ones with ease and in management. I think we could have had to good race, but at turn 10 Haslam touch me; when I saw him I tried to get the bike back up but he was out of line and took the front of my bike. I couldn't do anything and I crashed. I was really frustrated because we had a great pace and, looking at the rhythm of the others, the top 5 was within our reach. We will certainly make up for it in Qatar, but this was an opportunity taken away not by our fault."
For the photos of today: CLICK HERE
For the sequence of the crash: CLICK HERE
Ramello Elia