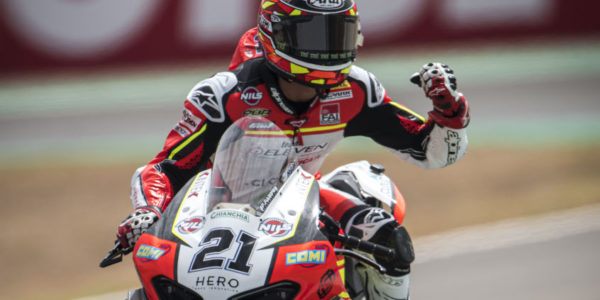 P 1, THAT'S AMAZING!
A Friday morning to forget, at Jerez, with Go Eleven's plans upset due to a technical problem and the following crash, then an unbelievable afternoon, a couple of laps from goosebumps, a perfect ride brought Michael Rinaldi in first position, with almost three tenths faster than the second: it is our first time (ours, both of the rider and of the Team) and what a cool place to stand there in front of the main WorldSBK riders!
An incredible emotion, about a minute and a half endless lap. But these are the moments when you have to keep your feet firmly on the ground, aware that the hardest part of the game has yet to come; head down and working, as they say, especially in view of the race, considering the really high temperatures that will "warm" us in the coming days.
Head down and work yes, but tonight we can enjoy the moment, with the V4-R by Go Eleven and Michael Ruben in the Olympus of the WorldSBK!
Free Practice 1:
P 1    L. Baz    1.40.249
P 2    J. Rea    + 0.062
P 3    A. Bautista    + 0.143
…
P 21   M. Rinaldi    +2.632 (Technical Problem-Crash)
Free Practice 2:
P 1    M. Rinaldi     1.40.325
P 2    S. Redding    + 0.303
P 3    A. Bautista    + 0.518
Michael Rinaldi (Rider):
"I am happy because after the problem we had this morning the best way to end the day is to score first! We still have work to do on the race pace because twenty laps in this hell will be tough; but I am satisfied. The bike works well, the Team works well, this morning we had a technical issue, but these are things that can happen and in the afternoon we showed great laps. Tomorrow we will concentrate on the race pace: being constant in these conditions, both physically and grip, will be difficult. So we have to work a lot , save energy and understand how to manage ourselves until the end of the race. "
For the pictures (by Matteo Cavadini): CLICK HERE
Ramello Elia