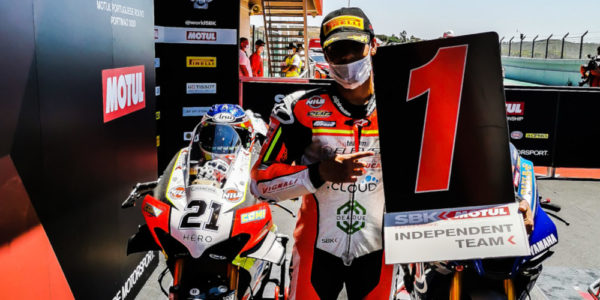 BACK TO BACK!
Michael Rinaldi and the Go Eleven Team in great shape on Saturday in Portimao! First Independent Team and a fantastic battle with Scott Redding. How many emotions do you give to the Team and to all the Red fans who watch from home ?!
From the very first stages of FP 3, the rider from Romagna proved to be fast and quick on the race pace, making some small changes compared to the previous day, which allowed him to find greater stability on the Panigale V4-R.
Free Practice 3
P 1   T. Razgatlioglu   1'41.658
P 2   M. Van Der Mark   + 0.186
P 3   J. Rea   + 0.212
…
P 7   M. Rinaldi   + 0.465
In Superpole the atmosphere heats up and it will be a battle of cents, with many riders who can aim for the first 3 rows. Michael completes three laps with racing tyres at a fast pace confirming himself in the top positions. He returns to the pits, a quick tyre change and immediately focused on the Q-tyre. With an excellent lap he improves by almost a second and moves to fourth place; a last perfect sector allows him to be just out of top 3. At the end of the session some riders manage to be a few thousandths faster, but the 1'41.424 allows Go Eleven to start from the seventh grid place, in the third row, three positions better than in Jerez! Target hit, a good starting position for the race.
Superpole:
P 1   J. Rea   1'40.676
P 2   T. Razgatlioglu   + 0.278
P 3   A. Lowes   + 0.398
…
P 7   M. Rinaldi   + 0.748
Another great race for Michael Rinaldi! He starts "quietly" defending seventh place from Sykes and Haslam, then improves his pace as the laps go by and rejoins the group fighting for the podium, taking the Englishman from BMW with him. Towards the middle of the race he goes to the attack, and engages the battle with a tough Loris Baz, also valid for the first place of the independent teams. Turn 5, the dangerous Portimao's hairpin, famous for contacts in past years, plays in favor and the Go Eleven rider manages to overtake the Frenchman on Yamaha. A couple of steps later and it's battle again; the bar goes up considerably, Rinaldi gets into battle with Scott Redding, a real hard breaker. After a couple of attempts, at turn one Michael push the braking, the Ducati Aruba.it rider tries to defend himself, but goes long and is behind. P 5 conquered, first Ducati on the finish line and back to back in the "First independent" pitch. First with Rea in Jerez and now with Redding, any Ducatista at home has jumped on the sofa; it misses really little to fight for the podium …!
Race 1:
P 1   J. Rea   34'24.940
P 2   T. Razgatlioglu   + 5.142
P 3   M. Van Der Mark   + 7.029
…
P 5   M. Rinaldi
Michael Rinaldi (Rider):
"We had another good race, reconfirming after Jerez was important. After a great start, I struggled a bit in the first few laps because the feeling with the new tyre was not optimal. From mid-race onwards we came up very well and I fought with Baz and Scott! In the end I managed to conquer the Top independent Team with a good fifth position, first Ducati at the finish, so I have to be happy. We still need a little bit to fight for the podium, above all we have to try to take advantage of the new tyre in the first laps; tomorrow I will try to work on this aspect!"
Denis Sacchetti (Team Manager):
"After the wonderful weekend in Jerez, it was essential for us to reconfirm ourselves in the Top 5, to show that last Sunday was not a coincidence, but here we are, we are a concrete reality and we are part of the match. Michael was always there in front of every session, and he managed the race in a very intelligent way, without being too fast in the first laps and imposing a constant pace. In the end he was the fastest. Now we continue to work to improve the first part of the race and the performance with new tyres."
Saturday's Pictures: CLICK HERE
Ramello Elia