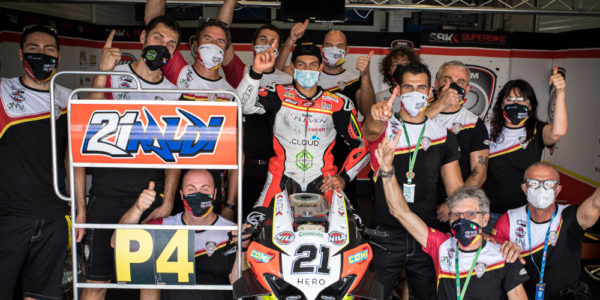 I SUMA, AI SEM, WE GOT IT!
I suma, ai sem, ci siamo, we got it! Two dialects, Piedmontese and Romagna, one language, Italian. This combination has always been the soul of Go Eleven and today is born its most mature fruits. What a race, guys, what a race, a unique emotion to conclude the Andalusian weekend in Jerez!
In the warm up the team tried a different tyre solution than the FP 3 on Saturday morning, to evaluate the different performance with cooler temperatures. The data collected will be important in view of the next races, since both the Superpole Race and Race 2 will take place in a lot different conditions, with hot asphalt.
Warm Up:
P 1   J. Rea   1'39.535
P 2   T. Razgatlioglu   + 0.186
P 3   L. Baz   + 0.205
…
P 9   M. Rinaldi   + 0.795
The Superpole Race starts with the ambition to improve the starting grid for Race 2. The start at the turning off of red lights is not perfect but Michael immediately tries to recover some position. Unfortunately with such a short race it is very difficult to recover and he did not have a great feeling with the Ducati Panigale V4-R, so much so that he could not force the braking. The time lost behind slower riders partially compromised the performance, finishing eleventh. Goal not found and departure from the twelfth place for Race 2.
Superpole Race:
P 1   J. Rea   16'43.589
P 2   S. Redding   + 0.522
P 3   M. Van der Mark   + 2.701
…
P 11   M. Rinaldi   + 16.337
Race 2 doesn't need too many words to be described. Starting twelfth, in a few laps with great determination Michael is in eighth position overtaking Bautista and Haslam and the BMW duo. An exhausting chase with the same pace of Scott Redding, from mid-race onwards, led him to get closer and overcome Van Der Mark, Lowes and Johnny Rea. What a battle with the Cannibal; five turns in which the position was exchanged 3 times with braking and lines from heart in throat. Trust me, to watch your bike, to watch Michael battling with the greatest Superbike rider of all time, to pass him and to go away from him is a unique emotion! Fourth position, emblematic performance, first independent Team at the finish line and best overall performance for Go Eleven in the WorldSBK Championship. Is it enough? When you have the pace to stay ahead you can't be satisfied…it's a regret we didn't manage to complete the Ducati hat-trick, we were so close! In Portimao, next weekend, we will try to do even better, to give to all over the world Ducatisti another day to remember!
Race 2:
P 1   S. Redding   33'51.855
P 2   C. Davies   + 3.082
P 3   T. Razgatlioglu   + 5.472
P 4   M. Rinaldi   + 8.709
Michael Rinaldi (Rider):
"What a race today! We went very fast on the race pace, I have to thank my team for this; we worked well all weekend! A bit of regret because when there are faster track conditions we cannot be so incisive and we had to start in the fourth row and in the Superpole Race we struggled a bit, too. Today's race was spectacular, I went fast, I came up from behind and I did some good overtakings; I also fought with Rea, it never happened to me, and it's a beautiful emotion! Let's improve a little more in Portimao!"
Denis Sacchetti (Team Manager): 
"I have to say thank you to the whole team, thanks to all the guys and above all super Michael who today made us live a wonderful and exciting race. Rinaldi was the fastest on the track, he recovered from twelfth to fourth place, without taking advantage of retirements or falls in front of him, and if only he had started some position further on the grid we could have seen three Ducati on the podium! We are also very satisfied and happy to have won the ranking of the independent teams, for us it is a very important result, I take the opportunity to thank all our partners, who work every day for this common goal, but we must work to improve our performance with soft tyres and with cooler asphalt temperatures, in such a tight championship it is essential to be ready for all situations and to be able to take advantage of qualifying; when you start back then it is difficult to remount and you stress the tyres more. Amazing ride today Michael, let's enjoy this moment but from tomorrow we will return to focus on Portimao, where the most difficult part will await us: to confirm the good results of Jerez!"
For the pictures (by Matteo Cavadini): CLICK HERE
Ramello Elia