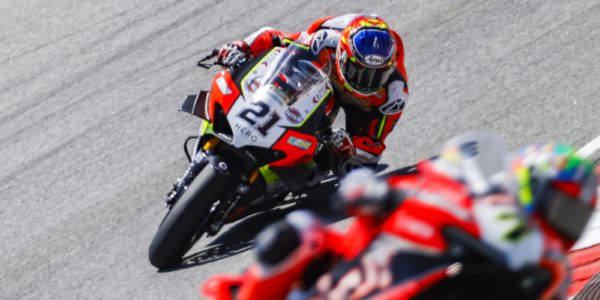 THREE IN A ROW!
Race 2 from the spectacular Portuguese circuit saw Team Go Eleven reconfirm themselves as the Top Independent team, signing an exciting double in Portugal! Third park fermé in a row, combined with yesterday's and Sunday's in Jerez!
Sunday at the Autodromo do Algarve started in the best way possible; Michael Rinaldi was very fast in cool asphalt conditions. 1.41.996 done in the Warm Up was the fastest lap of the weekend in race configuration!
Warm Up:
P 1   T. Razgatlioglu   1.41.616
P 2   J. Rea   + 0.035
P 3   L. Baz   + 0.290
…
P 5   M. Rinaldi   + 0.380
The Superpole Race is normally a tough race for Team Go Eleven; in a few laps we are still not able to be one hundred percent strong, using all the new tyre grip. Here in Portimao, however, after a contact in the first corners that relegated Michael to eleventh position, he managed to come back fast and gets close to Leon Haslam's Honda HRC. The duel with the Englishman on the last lap was beautiful, with the rider from Romagna coming out victorious. A hard but correct inside into turn 5 allows Michael to finish eighth, defending the third row for the afternoon's race.
Superpole Race:
P 1   J. Rea   17'00.623
P 2   T. Razgatlioglu   + 2.946
P 3   L. Baz   + 4.748
…
P 8   M. Rinaldi   + 13.675
Race 2, the final act of the two WorldSBK weeks, starts with different conditions than on Saturday: warmer asphalt and medium-intensity wind disturbing the riders on the track. Rinaldi is reactive to the green light, defending hard the eighth position. Right from the start, however, the feeling with his Ducati Panigale is not so nice and he struggles to attack his opponents. The general conditions of the track are difficult and dangerous, with many riders on the ground in the first laps; to report the crash of Loris Baz, the first opponent of Go Eleven in the Independent Team standings. The 24-year-old from Romagna knows how to manage difficulties well, holding on to Davies and Bautista's exhausts, but without having the necessary speed to overtake them. Despite the complicated race, the Go Eleven Team brings home another great result, a sixth position that has the flavor of reconfirming at the top. Often using your head, taking the bike and the result home is more important than being fast. And for the third race in a row, first private team at the finish line and another 10 points won. This concludes an extremely positive and concrete weekend for Piedmontese Team. Now some well-deserved relax in view of the two stages at the Aragon circuit, 28-29-30 August and 4-5-6 September!
Race 2:
P 1   J. Rea   34'36.949
P 2   S. Redding   + 4.360
P 3   M. Van der Mark   + 4.453
…
P 6   M. Rinaldi   +12.566 
Michael Rinaldi (Rider):
"The weekend in general went well, because we did Top Independent twice, but I'm a bit disappointed with today's race because I wasn't able to express my potential at 100%. The track conditions were difficult, many riders crashed, and I didn't have a great feeling, so I preferred to take home the sixth place. We go home satisfied, but a bit upset for the missed podium which was really close both in Jerez and Portimao!"
Denis Sacchetti (Team Manager):
"We are happy but not satisfied! We are happy because we won the Independent Team classification for the third consecutive time, and because Michael was good at managing a difficult race, where we suffered a bit from the lack of grip on the track. Precisely for this reason we have not been able to put the candle on the cake of these two weekends, we smell the podium getting closer and closer but we are not able to grab it yet. The team is working well, there is serenity and harmony, Michael is in great shape and we look to Aragon aware of our abilities."Saturday's Pictures:
CLICK HERE
Ramello Elia