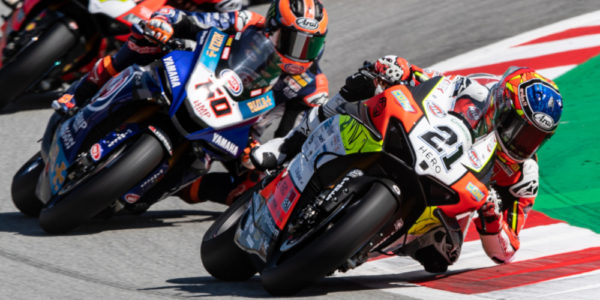 IT HURTS, BUT IT'S RACING!
The races never end, up to the checkered flag; today the Go Eleven Team tried it on their skin!
In the Warm Up Michael took to the track with the aim of trying the race pace with the SC0. Right from the start he proved to be competitive, among the best in terms of race pace.
Warm Up:
P 1   M. Van der Mark   1.42.325
P 2   S. Redding   +0.026
P 3   M. Rinaldi   +0.109
In Superpole Race the 24 year old from Romagna starts badly from the second row. During the first lap he is eleventh and there isn't lot of time to come back, with only a 10 laps-long race. He sets his pace, following his brand-mate Chaz Davies, and manages to recover up to sixth place. Excellent starting position for Race 2, second row defense done!
Superpole Race:
P 1   M. Van Der Mark   17'07.732
P 2   J. Rea   +2.372
P 3   L. Baz   +2.923
…
P 6   M. Rinaldi   +6.487
It's hard to find the words to speak about Race 2! Michael started like a thunderbolt, immediately standing in second position close to Van Der Mark, then he passed him taking the lead and trying to create a small gap. Chaz Davies, winner of the second manche, took the lead on the fourth lap; the Go Eleven rider followed him for a few laps, during the sixth one he felt faster and tried the attack on turn 6, going a little bit wide and climbing in fourth place behind the Yamaha team. 2 laps of difficulties where he was also overtaken by Rea, but then head down and hammer time. Overtaking Rea at the end of the straight towards the middle of the race and podium goal in mind. The number 21 manages to close the gap tenth on tenth until the first white smoke comes out from the rear of the Ducati. Two laps from the end he was forced to leave the race, just when he was smelling the podium. Finishing the race on the gravel hurts, it hurts very badly, but there remains the awareness of being fast and consistent on all tracks and in all conditions. The Circuit de Barcelona-Catalunya did not give the Piedmontese team what it hoped for, the points collected were less than those within our reach; in two weeks it is already time to be again on track. WorldSBK moves to France, Magny-Cours track, 2/4 October!
Race 2:
P 1   C. Davies   34'29.729
P 2   M. Van Der Mark   +2.460
P 3   G. Gerloff   +2.559
…
DNF   M. Rinaldi
From all of Team Go Eleven, our congratulations go to Chaz Davies and Garrett Gerloff: Chaz, great win, you deserve it all; Garrett the first podium is never forgotten!
Michael Rinaldi (Rider):
"It was a weekend in which we collected less than we could collect because in both races we could have finished on the podium. Yesterday we made a wrong tyre choice, but it fits, without having been able to try before, it was a calculated risk, while today I fought for the first position, then I made a mistake and came back fifth. Then I got there with my pace, I passed Johnny again and I was going to pick up the two Yamahas, we could have easily been on the podium. As I approached the top three, the engine dropped and then broke. I don't have much to say, I couldn't do anything different, I gave my all but with two laps to go I was forced to retire. That's a pity because it could have been two podiums, we wasted a few points in this race!"
Denis Sacchetti (Team Manager):
"Today did't go well, Michael had the pace to be on the podium, he proved it both in the Superpole Race and in the Warm Up. In Superpole Race we started with the SC0, unlike almost all the others who had soft tyres and we still got a good performance by finishing sixth. In race 2 Michael got off to a great start fighting for the top three positions, in the last laps he could easily try the assault on the podium, but unfortunately he was stopped by a technical issue one lap from the end. The weekend is still positive because we have always shown ourselves up front, fighting for the podium and for the main positions; however, we did not collect what we deserved in the two races. Michael was good, the team worked well and we have nothing to complain about. Now let's go to Magny-Cours, the penultimate Round of the Championship, with high motivation and the awareness of being able to achieve excellent results!"
Sunday-Superpole Race pics (by Luca Gorini): CLICCA QUI
Sunday-Race 2 pics (by Luca Gorini): CLICCA QUI