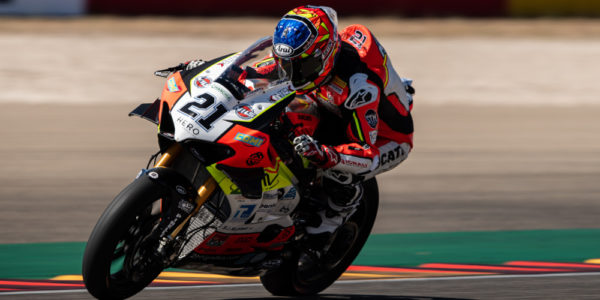 TWO SESSIONS, ONE LEADER: MICHAEL RUBEN RINALDI!
A perfect Friday, for Team Go Eleven, in the hot day at Motorland Aragon! Michael Rinaldi and his Ducati V4-R set times unattainable for all rivals, both in the morning and in the afternoon. First overall in the combined and first time in both sessions, for both Michael and Go Eleven it is a "First time ever"!
The FP 1 starts with an asphalt temperature similar to last weekend's races. Michael enters with a really similar to race 2 set-up, and after some excellent laps he returns to the pits to try something different on the rear. Immediately he finds better sensations, he is constantly the fastest in the first and last sector, and ends his Run in third position. In the last ten minutes of the session it is time-attack, Michael completes two perfect laps, without mistakes, and gets ahead of the five-time World Champion Jonathan Rea by just one thousandth!
Free Practices 1:
P 1   M. Rinaldi   1.49.840
P 2   J. Rea   +0.001
P 3   A. Lowes   +0.507
In FP 2, with more similar conditions to those that will face in the races, Team Go Eleven starts with a very specific goal: the race simulation. The first 10 minutes are used to try a small change from the morning; Michael finds well and then the long distance test begins. In the first laps he immediately set two great laps, necessary to take the first place with a margin of three tenths over Rea; then he continues managing the tyre drop lap by lap, always maintaining a pace between the high 50 and 51.7. For some laps he also found Jonathan, also in race simulation, and seeing them together could be the starter of tomorrow's race.
Free Practice 2
P 1   M. Rinaldi   1.50.377
P 2   J. Rea   +0.274
P 3   C. Davies   +0.347
As an Independent team, completing two sessions in first position is something unique; the bike looks magical in Michael's hands, let's enjoy the moment and see what happens over the weekend!
Michael Rinaldi (Rider):
"I'm very happy with how the day went because we improved the feeling compared to last weekend, managing to go a little faster. We still need a little bit to be more consistent in the race pace, but in the afternoon we did the race simulation and I'm satisfied. The work has been good, now we try to take another step forward and I can't wait for tomorrow!"
For Friday pictures: CLICK HERE