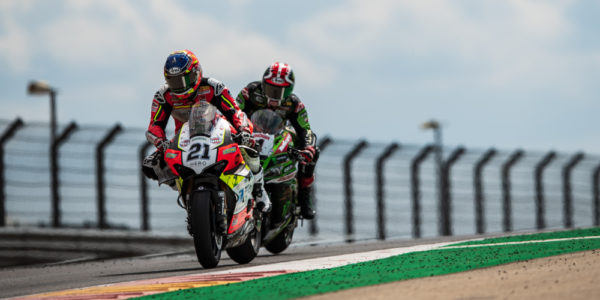 KING OF ARAGON
After yesterday's amazing race it was difficult to confirm the result, but on this track Go Eleven and Michael Ruben Rinaldi wrote WorldSBK history!
In Superpole Race, the 24-year-old from Sant'arcangelo di Romagna immediately entered the top three, as spectator of excellence for the battle between Jonathan Rea and Scott Redding. Michael followed the two "title contenders" creating a slight gap on the other riders, trying to fight for the first two positions. The last three laps he was able to defend himself setting a strong pace, taking home the second podium in two races. P 3, first row maintained for Race 2 and goal achieved!
Superpole Race:
P 1   S. Redding   18'22.141
P 2   J. Rea   + 0.970
P 3   M. Rinaldi   + 3.685
Race 2 starts with 5 degrees less on the asphalt than yesterday, slightly changing the track conditions. The Go Eleven rider defends his starting position well and immediately sets off in pursuit of the usual duo, Scott and Rea. First laps studying and then as soon as there is a small possibility…he takes the inside on both: first the World Champion and then the British Ducati rider. Thus the Italian began an unsustainable rhythm, which can only be pursued by Kawasaki-Rea . The two run away, with the Northern irish putting pressure on Michael for the whole race: In the last five laps, the pressure becomes insistent, Rea goes in but makes a mistake and risks the highside, then goes back and strongly goes in to curve six. For a while Michael tries to stick to the exhausts of the number 1 green, but in the end he had to "settle" for second position. Another podium, another incredible performance, which it is as good as yesterday's: today he showed everyone that he has the head to become a great champion. A star is born at Motorland Aragon!
Race 2:
P 1   J. Rea   33'20.294
P 2   M. Rinaldi   +1.244
P 3   S. Redding   +5.326
It ends the perfect, magical weekend of Go Eleven! Three races, first, second and third, two fastest laps, second position in Superpole. Asking for better for our team, for an independent team made up of a few people, all very passionate and professional, is impossible! A huge thank you goes to those who made this weekend possible, to all the sponsors, to those who follow us from home, to those who have always believed in us! The dream has come true and now we have to try again, starting from the next stage: Barcelona, Montmelò Circuit, 18-20 September.
Michael Rinaldi (Rider):
"This weekend was amazing! Yesterday we got an unexpected victory and today we took home two more podiums: third in Superpole Race and second after a good battle with Rea in Race 2! I really enjoyed myself, I pushed more than 100%, but today, also due to the different weather conditions, I was unable to replicate what I did yesterday. But a great race, Rea pushed till the end to try to win, and fighting with a five-time World Champion is great. Even though this time he got the better of it, I'm already glad to be there to fight. I'm also very happy for the team, because we had an unbelievable weekend."
Denis Sacchetti (Team Manager): 
"A young talent fighting the greatest SBK rider of all time, a stellar one on one … I didn't sweat that much even when I was racing! Today we have not only watched the battle between two monsters, but also the epic challenge of David against Goliath, a small private team that challenges the giants, an incredible teamwork, a group of people, a family that goes beyond…everything, beyond all plausible logic. Today it was important for all of us to confirm ourselves there at the top, fighting for the victory, to show that yesterday's performance was not just a coincidence. I don't have many words, for us it was a week to frame. For all the people who work, support and follow Go Eleven; we wrote a page of history!"
Opening picture: WorldSBK
For Sunday pictures (By Luca Gorini): CLICK HERE