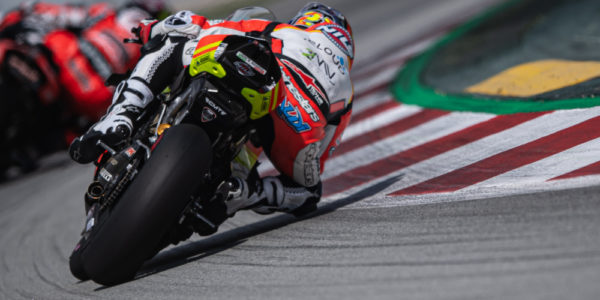 HALF WAY "FLYING MODE", HALF WAY "DEFENSE MODE"!
A weather-uncertain Friday welcomes the WorldSBK riders. Dry conditions in the morning, wet in the afternoon, partly changed the teams' plans, further reducing the time available to adapt the set up to the characteristics of the Circuit de Barcelona-Catalunya, for the first time in the WorldSBK calendar.
The FP 1 are really important for Team Go Eleven and its rider Michael Rinaldi; for the first time they ride this track together with the "Superbike" version of the bike. After a few laps to understand the layout of the track, the 24-year-old from Romagna begins to improve lap after lap, sector after sector. With a substantial change on the rear towards mid-round, he managed to climb the positions, finishing sixth less than half a second from the first.
The feeling is still not one hundred percent and the technical staff already has some solutions in mind to make the bike more agile and more manageable when changing direction.
Superpole:
P 1   J. Rea   1.41.619
P 2   T. Razgatliouglu   +0.094
P 3   A. Bautista   +0.138
…
P 6   M. Rinaldi   +0.597
Well, Race 1, it was "a Doctor Jekyll and Mr Hyde" race! Michael starts very strong, immediately entering second position in pursuit of the Cannibal. In the first laps he tries to make a gap by using the soft rear tyre, the well-known SCX also used at Aragon. Towards the middle of the race a first tyre drop allows Scott Redding to overtake the 24 year old from Romagna, but the last five laps are the toughest. The rear is completely finished, Rinaldi is forced to raise the pace a lot trying to defend himself, with no results, from the attacks of his direct opponents. Unfortunately, a single free session in dry conditions did not give the time to test long-term tyres, Team Go Eleven took a risk that today did not pay. Fortunately, WorldSBK offers two more races tomorrow and there is plenty of time to make up for it. Michael was very good at taking home an excellent seventh place, still first of the Independent Teams!
Race 1:
P 1   J. Rea   34'34.245
P 2   S. Redding   +2.625
P 3   C. Davies   +4.459
…
P 7   M. Rinaldi   +11.676
Michael Rinaldi (Rider):
"It was a difficult race because we chose a soft tyre, the one that allowed me to win at Aragon, but unfortunately it didn't go as I hoped. We only did one dry session here in Barcelona and we had no experience; we took risks. without knowing if the tyre could finish the race. In the end we have nothing to regret, the reference team did two days of testing here, while we did only few laps on Friday morning. The podium was really close, unfortunately in the last laps the rear tyre dropped so much and we had to take the result home somehow. It was almost like riding in wet! Tomorrow we know which tyre we have to use, now let's try to fix the set-up on the SC0!"
Denis Sacchetti (Team Manager):
"We tried, we could have done another stunning race, but it went badly! Unfortunately we didn't do the tests on this track, like almost all the factory teams we are fighting with, and during the weekend we only had the FP 1 to test on a dry track, and they needed to learn the track. So we knew that the race would be a gamble and we chose the SCX, knowing that we had nothing to lose. At Aragon it was the right choice, here instead it gave up a few laps from the end …. no worries. I'm satisfied because once again we were there, second / third position, in any case to fight for the podium, and in the free practice on a wet track we confirmed ourselves among the protagonists, to highlight the solidity of our team work. Tomorrow in race two we will try again!"
Saturday afternoon pics (by Luca Gorini): CLICCA QUI
Ramello Elia