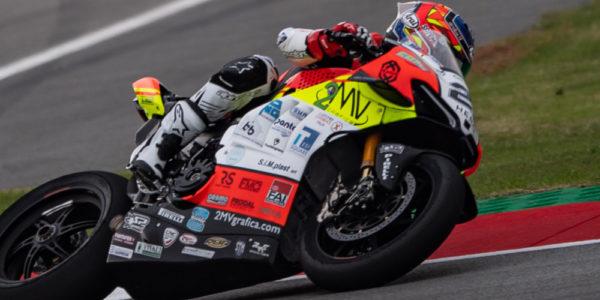 DRY OR WET TRACK; RINALDI IS ALWAYS BETWEEN THE BESTS!
A weather-uncertain Friday welcomes the WorldSBK riders. Dry conditions in the morning, wet in the afternoon, partly changed the teams' plans, further reducing the time available to adapt the set up to the characteristics of the
Circuit de Barcelona-Catalunya
, for the first time in the WorldSBK calendar.
The FP 1 are really important for Team Go Eleven and its rider Michael Rinaldi; for the first time they ride this track together with the "Superbike" version of the bike. After a few laps to understand the layout of the track, the 24-year-old from Romagna begins to improve lap after lap, sector after sector. With a substantial change on the rear towards mid-round, he managed to climb the positions, finishing sixth less than half a second from the first.
The feeling is still not one hundred percent and the technical staff already has some solutions in mind to make the bike more agile and more manageable when changing direction.
Free Practice 1:
P 1   T. Razgatliouglu   1.42.140
P 2   M. Van Der Mark   +0.169
P 3   G. Gerloff   +0.338
…
P 6   M. Rinaldi   +0.495
In the early afternoon the gray clouds cover the track and the rain comes in. Rain tyres on, to face the first wet session of 2020. Michael starts like a diesel, intelligently, to find the limits of the track in wet conditions, without pushing too much, being a free practice session; the asphalt is very slippery, several riders crash causing even a red flag. Little by little e the track dries up a bit and speeds up. Michael improves his feeling with the asphalt and in the middle of the session he puts himself in front, in first position. He completed about 20 laps on the same set of tyres, covering the race distance, and on the last lap he still managed to improve by a few tenths, finishing third in the afternoon session. In FP 3, tomorrow morning, it will be essential to try those changes in the dry, if it will be dry, required and studied after the morning. Once again the Go Eleven rider proves to be in great shape, ready to fight for the top 5.
Free Practice 2:
P 1   J. Rea   1.55.669
P 2   M. Van Der Mark   +0.158
P 3   M. Rinaldi   +0.169
Michael Rinaldi (Rider):
"Today was a good day for us, it was the first time on this track, and I finished sixth in the morning in dry conditions. I was still not at one hundred percent both in terms of feeling with the bike and in terms of trajectory lines; and we need to improve in some areas, but it was a positive session. We had a work plan for the second free practice session, which would have given us a good step forward, but the rain changed our plans a bit . So in the afternoon we had the first experience in rain conditions of this year, I felt good, finishing third. In general, therefore, I'm happy for today but we have to work to be even more competitive tomorrow in the race, which will take place. most likely, in dry conditions!"
Friday morning pics (by Luca Gorini): CLICCA QUI
Friday afternoon pics (by Luca Gorini): CLICCA QUI
Ramello Elia